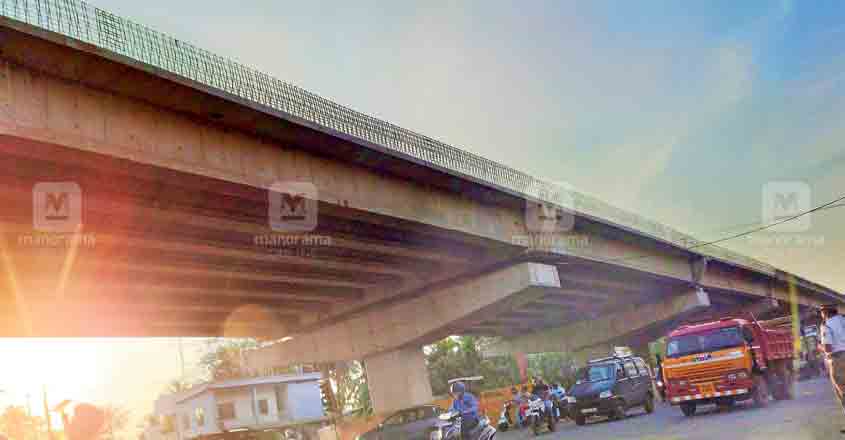 Thiruvananthapuram: The flyover coming up at Chackai on the national highway bypass here is expected to be thrown open to traffic by December. It is part of the  26.72-km first phase of the Kazhakkoottam-Karode bypass work. The work on the second phase of the 16.2 km-stretch from Mukkola to Karode too is under way.
The construction of the Chackai flyover would be completed next month. The pending works are those on surfacing the road, putting in place a few slabs and establishing crash barriers and fixing street lights.
Earlier the deadline to open the flyover was October, however, the progress of work slowed down in summer owing to searing heat. Work was suspended between 11am and 3pm but the workers toiled at night to make up for lost time to a certain extent.
The flyover extends from Chackai rail over-bridge to Anathapuri hospital and is 1.6 km long and 22 m wide. A major chunk of the 400 girders used for the construction of the bypass was put in place.
The opening of the bypass will ease traffic congestions at Chackai and Enchakkal junctions.
Currently, partial transportation is allowed on this NH stretch. With the entire stretch opening for the public, traffic snarls along the Balaramapuram-Karamana route would be further reduced.
When the total bypass work is completed, facilities such as 24X7 ambulance service, trauma care unit and cranes would be provided. Cafeteria and restrooms would be made available every 45 minutes. 
The entire bypass would be ready for inauguration in 2020. The National Highways Authority of India (NHAI) authorities said vehicles can travel at 80 to 100kmph on it.
The construction cost for Kazhakkoottam-Mukkola stretch is Rs 700 crore and that for building the road from Mukkola to Karode is Rs 494 crore.