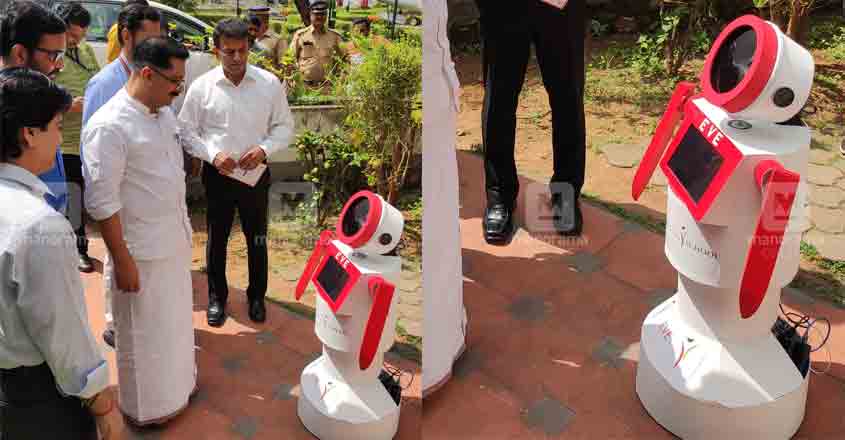 Thiruvananthapuram: Kerala Higher Education Minister K T Jaleel was in for a surprise when he came to launch the faculty development programme at the Model Finishing School run by the Institute of Human Resource Development (IHRD) here. It was 'Eva' who welcomed the minister by addressing him by his name and with the customary 'namaste'.
The twist in the tale is that 'Eva' is not a Malayalee girl in traditional attire, but a robot. The surprise did not end there for the minister. When he entered the finishing school, 'Theia' was waiting for Jaleel with a small lamp with which the minister lighted the traditional lamp as part of the inaugural function at the school on the premises of Science and Technology museum at PMG Junction here.
'Eva', who is named to rhyme with world's first woman Hawa and 'Theia', named after Greek goddess of light Theia, are robots developed by teachers and students of the finishing school in about 10 days. The robots can identify persons through the names and photographs programmed into these machines. These two robots are a precursor to how droids will be part of people's lives in future.
Addressing the gathering, Jaleel said that teachers should always be knowledge seekers and visionaries to create a student community with a creative bent of mind. The inaugural function was presided over by IHRD director Dr P Suresh Kumar.
IT parks CEO P M Sasi, IHRD additional director Dr V A Arun Kumar, Model Finishing School officer-in-charge P S Maneksh and coordinator S Panchami spoke on the occasion. The five-day faculty development programme I is being conducted in association with the All-India Council for Technical Education (AICTE).
The school conducts various courses to make technical graduate employable, and also imparts training to help engineering students successfully complete their graduation. All courses are free of cost.
For more details contact: mfstvm.ihrd@gmail.com or 8547005050.