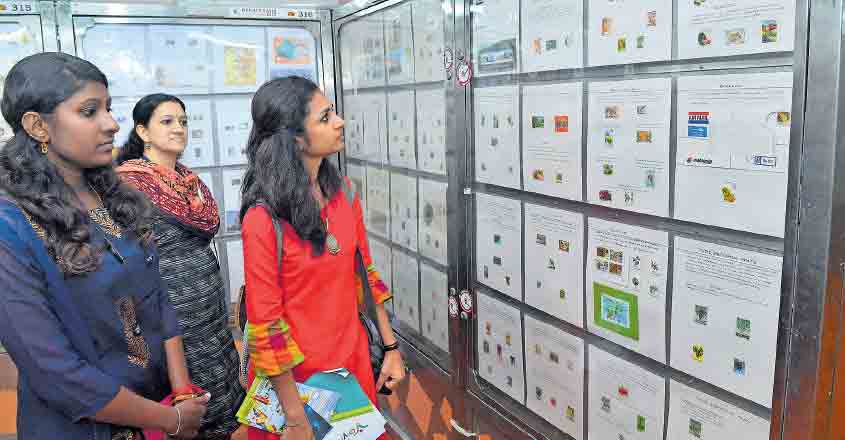 Thiruvananthapuram: Every stamp has a story to tell. It encapsulates a momentous occasion in history or extols the contribution of a towering personality. A philately exhibition organised by the Kerala Postal Circle at the Chandrasekharan Nair stadium here took one on a journey through the moments that changed the course of history.
Several contests were organised as part of the 150th birth anniversary of Mahatma Gandhi at the exhibition venue. As visitors could buy stamps at the venue, buyers lapped up commemorative stamps on Mahatma Gandhi in particular.
Gandhi stamps stand out at philately exhibitions as a large number of countries have released commemorative Gandhi stamps. The first Gandhi stamp was issued in the denominations of 3.50 anna, 12 anna and Rs 10 on August 15, 1948. Now, you have to shell out close to Rs 15,000 to buy one of these iconic stamps.
India's first stamp 'Scinde Dawk', which was introduced in Sindh, now in Pakistan, was on display. (The first postal stamp, with the photo of Queen Victoria, was issued by Britain in 1840 and it was known as 'Penny Black'. The postage stamp came to India in 1852 and the first postage stamp of independent India with the image of the tricolour was released on November 26, 1947.)
The exhibition was inaugurated by Kerala Police Chief Loknath Behera, who is an avid stamp collector. The function was presided over by Chief Postmaster General Sharda Sampath. Kerala Circle Postal Service Director Sayeed Rashid and Northern Regional Postmaster General Jitendra Gupta also addressed the gathering.
The exhibition, named Kerapex-2109, was on from 10 am to 6 pm. It concluded on December 1.