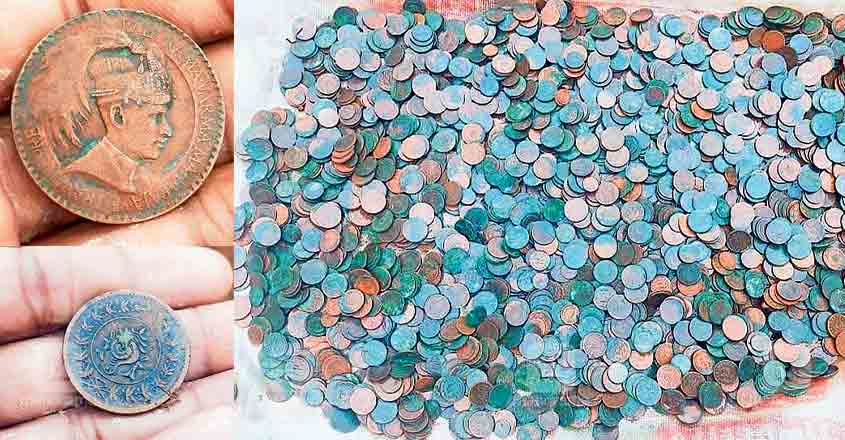 Kilimanoor: Ratnakaran Pillai, a former panchayat member here, has been two times lucky, that too in a big way. In 2018, Pillai had won the Rs 6-crore Christmas-New Year bumper prize of Kerala state lottery and spent some money from it to buy a plot of land. A couple of days ago, he employed some labourers to clear the land for farming. To the surprise of everyone, a pot full of antique coins was unearthed while digging.
The plot is located on the eastern side of the Thirupalkadal Sri Krishnaswamy Temple, Keezhperur in Thiruvananthapuram district. The coins date to the times of Travancore royalty and number around 2,600. The pot weighs 20kg. The image of Maharaja Chithira Thirunal and the English words 'Balaramavarma Maharaja of Travancore' are engraved on some coins.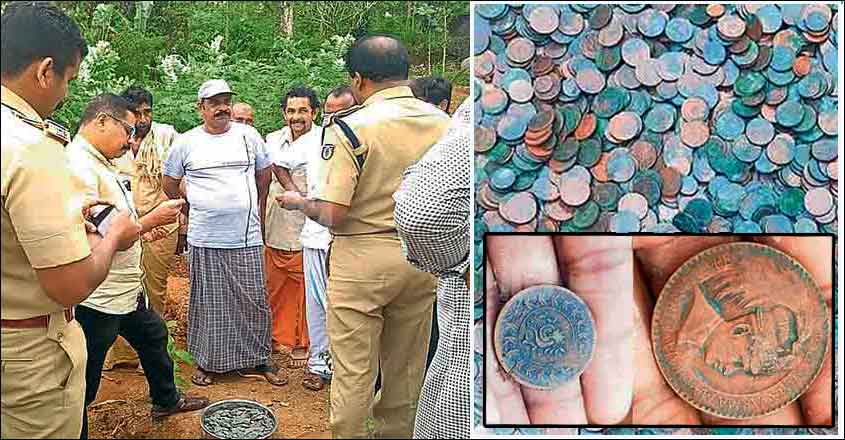 The plot, measuring 27 cents, was bought by Pillai, who resides at Rajesh Bhavan, Keezhperur in Vellalloor, one-and-a-half years ago. As soon as the pot of coins was found, Pillai snapped pictures, which were shared on WhatsApp. He also informed the Kilimanoor police about the discovery of the treasure.
Soon, officials from the Archaeology Department reached the spot and took possession of the coins. They informed that detailed analysis had to be carried out in a lab to find the antiquity of the treasure as the coins are covered with verdigris.
Archaeology officials said that they would visit the centuries-old Sri Krishnaswamy Temple as well as the plot again for a detailed study. According to the local people, the temple had historic links with Kowdiar Palace in Thiruvananthapuram, which was the residence of the Maharaja of Travancore.