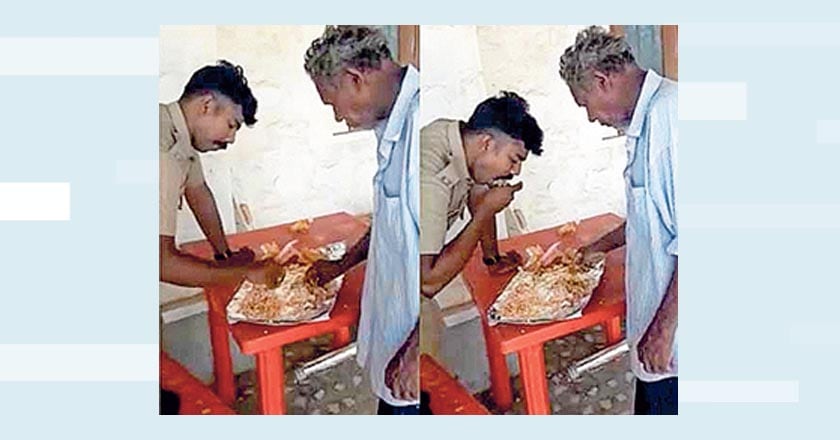 Thiruvananthapuram: Even as the Kerala Police is plagued by the escapades of a few black sheep, the conduct of its noble personnel may help to redeem its sullied image. A video of a policeman sharing his food with a famished man on the recent hartal day in the state has gone viral on social media and may go a long way in restoring public faith in the force as a do-gooder.
The video shows S S Srijith, a constable of the Armed Reserve Camp, sharing his food to a middle-aged man in shabby clothes.
The incident reportedly took place on the verandah of the church at Poonthura on Tuesday afternoon.
When policemen on hartal duty were about to have their lunch, a middle-aged man came near them. The man looked at the food and Srijith asked him if he had eaten anything.
When the man said no, Srijith invited him to share his lunch. He hesitated initially, but Srijith insisted and the man gave in.
His colleagues took a video of Srijith having food with the man, though he was not aware of it. They posted it on the Facebook page of the police media centre of Kerala Police which was shared by several people. Soon, appreciation came from the offices of the Director General of Police and the Commissioner of Police, Thiruvananthapuram City.
Srijith is a native of Kattakkada.