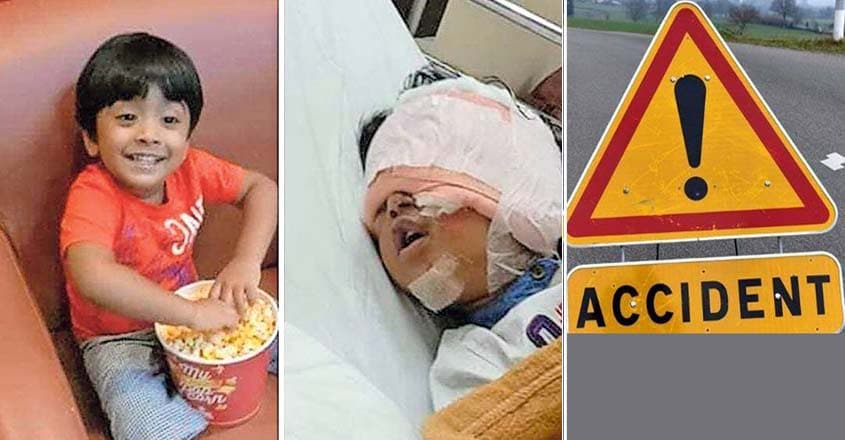 Sreekaryam: A car owner has been arrested following an uproar over his inhuman conduct after his vehicle rammed a scooter-borne mother and child at Sreekaryam in Kerala's Thiruvananthapuram district. The man who hesitated to take the injured duo in the car later made them get out of his car after he was forced to take them to hospital as passers-by intervened.
The case has been filed against Saji Mathew of Kottarakara. The accident happened on the evening of December 28.
The police swung into action and detained Saji only after the child's father put up a post on social media over the incident.
Reshma, 27, wife of Chempazhanthy native Aravind Sudhakaran, and their two-year-old son Arush were the injured.
Saji's car hit Reshma's scooter while she was riding with her son. Arush suffered serious injuries to his face, while Reshma's leg was hurt. Though Saji tried to flee the spot without taking them to the hospital, local people intervened.
Saji then took the injured in his car. However, he drove very slowly and when Reshma urged him to drive faster, he got angry and left them stranded on the road, as per the complaint. Reshma then took an autorickshaw to the hospital.
The toddler had to undergo a plastic surgery. Aravind, who works for Godrej in Mumbai, returned home and filed a complaint with the Kazhakoottam police. But no action was taken.
He then put up the social media post along with the heart-wrenching pictures of his son's injured face and the car number. The post triggered a furore, and the Human Rights Commission intervened. Later Minister Kadakampally Surendran, who represents the Kazhakootam legislative assembly constituency, also stepped in.