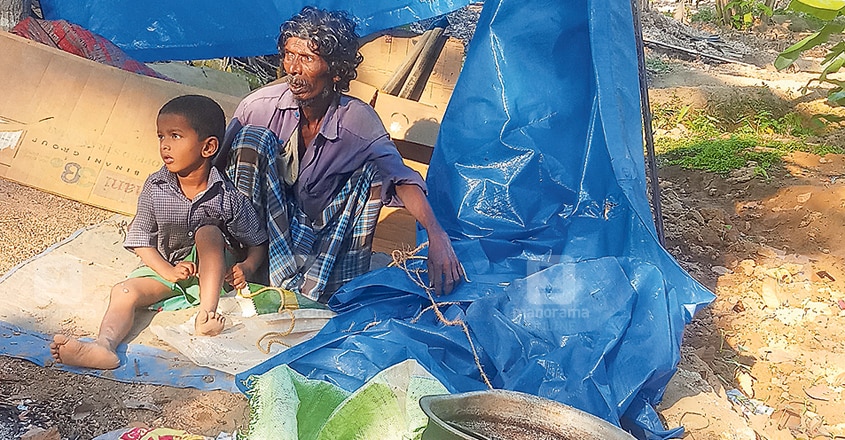 Pothencode: An ailing 60-year-old man and his four-year-old son are on the streets with no place to call as their home.
Until recently Muhammed Haneef, his wife and son had been living at various houses here in Thiruvanathapuram on rent. As he couldn't pay the rent owing to declining income, Haneef's family later started living near the Kunnath temple on the plot of one Wahab. There Haneef put up a tarpaulin on four sticks as roof over their heads.
Life turned hard for the family as Haneef, who used to make a living by selling tapioca, found it difficult to make ends meet owing to chest and stomach ailments. Though he underwent a surgery at the medical college hospital a year ago, he still suffers from pain.
His wife Kavitha left to be with her grandmother as soon as they started living in the tarpaulin shack. She also reportedly took medicines for mental illness.
"My wife went to stay with her grandmother eight days ago. I have no further information about her," Haneef said.
Moved by the plight of both father and son, the nearby residents took up the issue with ward member M Balamurali. Subsequently, the police and Childline authorities were also informed. The police soon came to check on the father and son, and made a temporary arrangement for their stay.
Haneef and his son were allowed to stay at the terrace of a person, Yusuf, in the neighbourhood.
Balamurali alleged that the Childline workers did not come to the aid of the boy, Anwar.