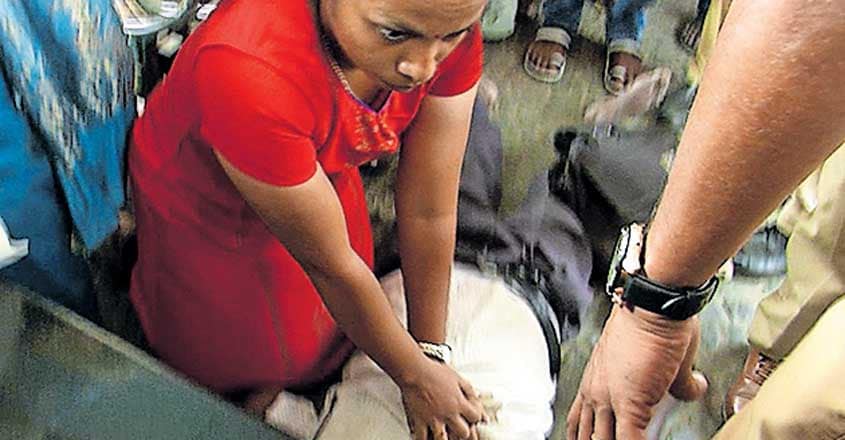 Thiruvananthapuram: A woman passenger desperately tried to revive an elderly person, who collapsed at the East Fort bus station in the Kerala capital during a flash strike of the KSRTC on Wednesday. Despite her valiant efforts, the life of Kumarapuram native T Suredran could not be saved.
Surendran, who was waiting for the bus, fainted on Wednesday afternoon. The woman, who was sitting nearby, immediately tried to revive him by administering Cardiopulmonary resuscitation (CPR). During this, she also made fervent pleas to the onlookers to call for an ambulance. After the onlookers informed, the police also rushed to the spot. Surendran was then taken in an ambulance to the general hospital.
The woman was identified as nurse Renju of the PRS Hospital at Karamana. The hospital authorities put up a social media post to laud the efforts of the nurse. "The staff and management of PRSH is proud of her efforts to save life!," the hospital said on its Facebook page along with photos from the incident.
Soon after Surendran was taken to the hospital, the woman too left the bus stand and more details about her were not immediately known. Renju had left for night duty at the hospital.
The ambulance with Surendran was caught in the traffic snarl. The KSRTC buses parked haphazardly on the road also added to the traffic woes.
Insufficient efforts
Surendran was given CPR by the woman and then the police. However, once the ambulance arrived, he was quickly shifted into the vehicle. And the CPR was discontinued. If only CPR was administered till he reached the hospital, his life could have been saved. This is despite the fact that the cops are given training on giving emergency aid.
Second flash strike
The KSRTC staff went on the flash strike on Wednesday after three employees were taken into police custody.
This is the second flash strike called by the KSRTC in Thiruvananthapuram. The employees went on a flash strike couple of months ago to protest the police action against a driver.