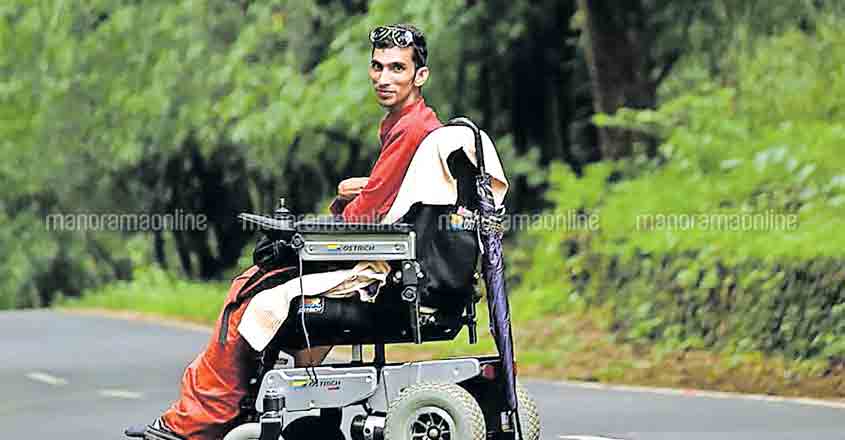 Thrissur: Saleesh is a person with firm resolve. He doesn't like to waste time in idleness and took to reading in a big way sitting in his wheelchair. Saleesh, who is confined to his home, acquired more knowledge than his friends who went to college for higher studies.
To date, he has penned three books - 'Malakaye Pranayichavan', 'Nerukilethumbol' and 'Parvatham Samathalangale Thottunarthunnu'. The first two books are Malayalam translation of Persian poet Jalalad-Din Muhammed Rumi's works. Presently, he is translating some Sufi poems to Malayalam.
Saleesh was born at Valarkavu in Thrissur and did his schooling till class X at Ancheri High School. While studying in class X he met with an accident that changed his life upside down. The bed-ridden Saleesh took an interest in writing. The lean Saleesh, who has long hair and clear eyes, is a poet and translator for some and a preacher of spirituality for others. Many on Facebook are admirers of Saleesh's writing skills. Saleesh got hooked into philosophy after reading the theology books of Bishop Paulose Mar Paulose.
After devouring the books of Swami Vivekananda, Osho, Gibran, Rumi and Jiddu Krishnamurti, Saleesh got a ringside view of advaita philosophy. Saleesh, who stays near Ollur in Thrissur district, started writing verses when he fell in love, which finally ended in fruition. Later, he started translating the works of Rumi.
Noted writer Ashitha, who passed away recently, was a critic of Saleesh's posts on Facebook when his writings started to overflow with philosophy. Later, these arguments paled before the mother's love in Ashitha. The journey through philosophy has taken Saleesh to the doorsteps of Sufism. He loves to focus his camera on butterflies and birds that flutter around his home. For friends, Saleesh is a person who always exudes confidence and positive energy.