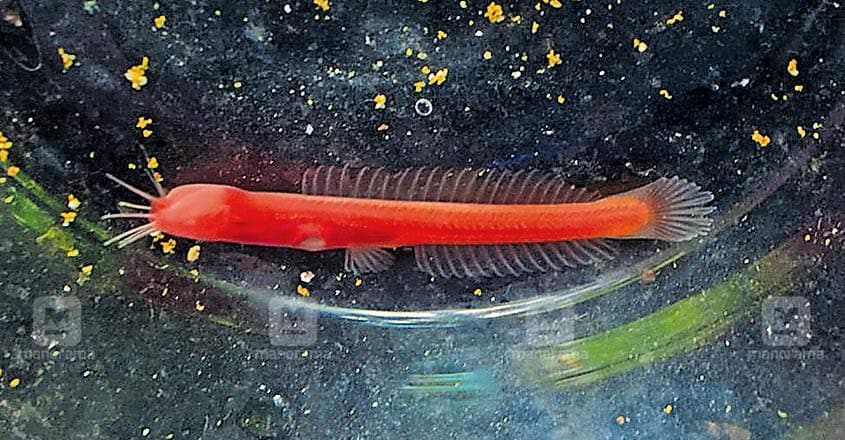 Puthukad: Monsoon rains replenish dry or shallow waterbodies. A spell of rains brings much-needed relief to both humans and animals alike. Intense rains wash up even subterranean features and even creatures. One fish living in underground water channels and rarely spotted came out of water tap at a house at Cheruval near Puthukad of Kerala's Thrissur district the other day.
Shaji and his family were in for a surprise as a rare fish came out of the tap. It was later identified as the Indian blind catfish (Horaglanis krishnai).
The red-coloured fish with whiskers is 6-cm long. This fish is blind and breathes through its skin. It has whiskers akin to a cat and hence the name. It mainly feeds on small earthworms and mosquito larvae.
The officials at the National Bureau Of Fish Genetic Resources in Kochi were informed by Shaji after he suspected it to be a rare fish. For more detailed study, the catfish was handed over to the officials. Only three fish of the same species have been reported before in the state.
One was found in Kottayam, the other two in Thrissur district.
The blind catfish likely entered the waterlines as water was pumped into the overhead tank from the house well.
The underground pressure could have forced it to move up, according to assistant professor Moncey Vincent of the zoology department of the Sacred Heart College, Thevara, in Kochi. He is doing research in this field.
A fish of the subterranean snake-head species was also recently found in Kerala.