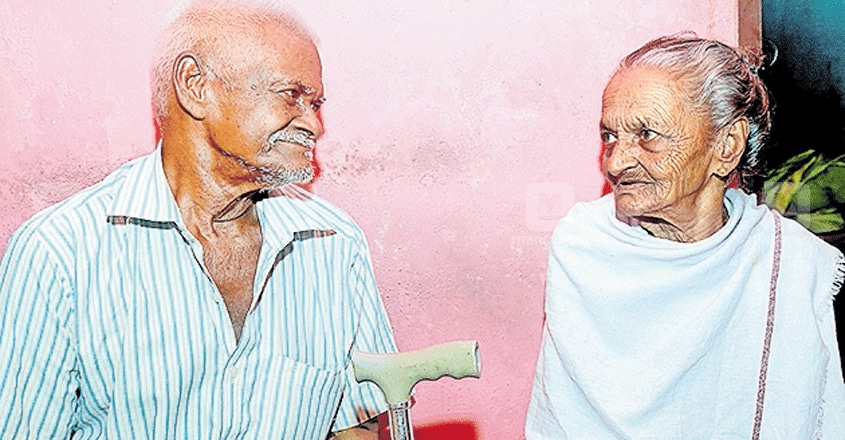 Kodungallur: Occasionally we hear about the reunion of long-lost siblings and other kin. Even a spouse who has been missing or presumed dead turns up after years. An old-age home at Pullut near Kodungallur in Kerala's Thrissur district was witness to a rare reunion of a couple who had been separated for 33 years.
Subhadra, 88, had been at the retirement home named Velicham for the past several months. She was admitted there by cops after she fell ill as her two children had died earlier.
Subhadra slowly recovered under the watchful eyes of care-taker Kareem.
Soon another ailing old man, Saidu, was brought to the old-age home by the police. It was none other than her husband who has been missing for the last 33 years!
Both recognised each other instantly. They gazed at each other in surprise. As they recovered from the shock, they were seen chatting and spending time together.
The couple revealed their story as the other inmates got curious and sought to know what was on.
Back to old times
After the death of her first husband, Subhadra was staying at her father's house. Saidu then turned up before her father, seeking her hand in marriage. They lived together for 27 years and had no issue.
Tragedy struck as Saidu, who left for north India in search of a job, did not return. Subhadra waited for his return for long, but there was no news about her husband. He returned to his land decades later with no worldly possession of his own. With none to care for, he too landed at the old-age home. He was also startled as to how destiny brought him back to the love of his life.
The couple celebrated their reunion after 33 years in style with Subhadra singing old folklore songs. Both of them even happily posed for photographs.
Old-age home president K P Sunil Kumar and secretary C S Thilakan said the couple indeed looked happy to have finally come together.