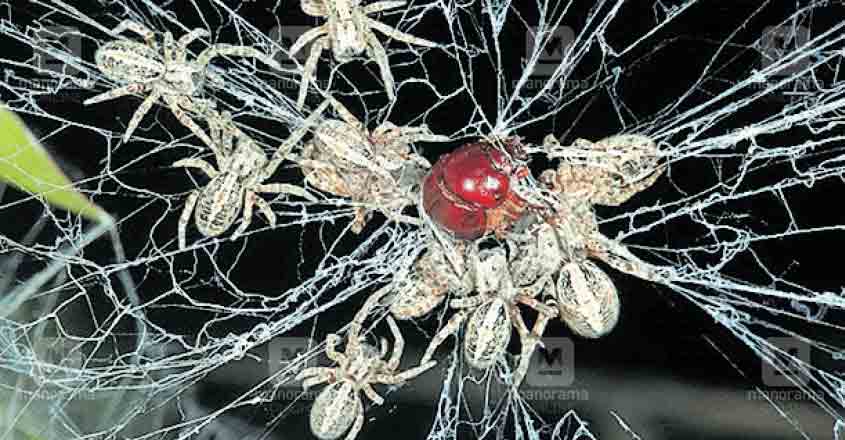 Irinjalakuda: Kerala is in the throes of significant changes in climate. Changes in temperature, frequent floods and rise of new diseases all point to these.
A recent study hints that the proliferation of social spiders and wolf spiders, which normally thrive in dry and tropical regions, in Kerala is a pointer to marked shift in state's climate which is generally hot and humid.
Social spiders, which were usually found at some places in Palakkad district and near Tamil Nadu border, have been spotted in large numbers in Thrissur and Ernakulam districts.
Drishya Mohan and Kashmeera Anidudhan, research students of Christ College here, observed their widespread presence during a study.
Their findings were published in Arachnology Letters, a science journal published from Germany.
The social spiders or cooperative spiders live in a colony of 300 to 500 spiders and cooperate in activities such as web construction and maintenance, prey capture and brood care. Their hairs or bristles help them to withstand the heat of tropical regions. These spiders feed on beetles and grasshoppers.
Wolf spider got its name as it hunts down its prey like wolfs. These spiders live in grasslands and soil, and prey on small insects.
Senior arachnologists Dr Yael Lubin of Ben-Gurion University of the Negev in Israel and Dr Wolfgang Nentwig of Bern University in Switzerland have elicited interest in studying more about these spiders.
Dr A V Sudhikumar, research head, guided the students in the study.