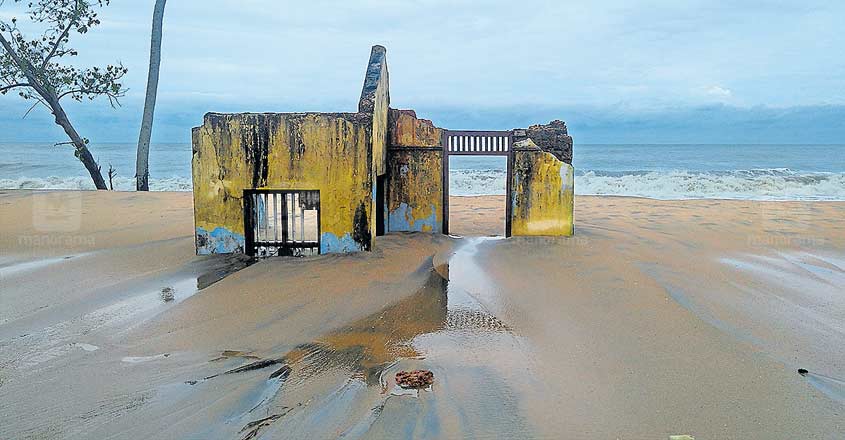 Kodungalur: Sea erosion denudes vast strips of land mass without proper embankments. People staying along the Kerala coast too are constantly under the threat of sea erosion and the residents of Edavilangadu near here in Thrissur district are no different. Though the authorities concerned took steps to construct a sea wall to ward off the danger in the area, the project has hit a roadblock.
The contractor, who was awarded the work to construct the 205m long sea wall from the beach at Puthiya Road to the one at Kara area, had washed his hands of the project. The residents were hoping that the work on the Rs 20-lakh project would start soon but the contractor had intimated the Irrigation Department that he was not interested in taking up the construction work.
As funds were allotted for the project, a temporary wall using sand-filled geo bags was not put in place in the region, and the other day the residents were in great distress as they had to bear the brunt of coastal erosion.
The problem of sea erosion is severe in this region, and the monsoon rains and Ockhi cyclone had wreaked havoc at Puthiya Road beach. Many houses were destroyed and hundreds of houses partially damaged. Moreover, lots of houses are on the brink of falling apart due to flooding. In the recent instance of sea erosion, many houses were inundated.
The residents are at sea as they don't know how to protect themselves without a protective barrier. An amount of Rs 20 lakh was set aside to build the sea wall on a war-footing but now tender should be re-floated for the construction of sea wall.
The residents are alleging that the Irrigation Department is dragging its feet on floating a fresh tender.
Though funds were set aside for many projects to construct seas wall along the Puthiya Road area since the 2004 tsunami, nothing had materialised. The fishers are finding the going rough due to lack of poor catch and now, coastal erosion.
More geo bags needed
Local MLA Taison has given a representation to the state government to provide more geo bags to fight the menace of sea erosion. He also demanded to give requisite power to the local self-government bodies to buy geo bags with the funds at their disposal.