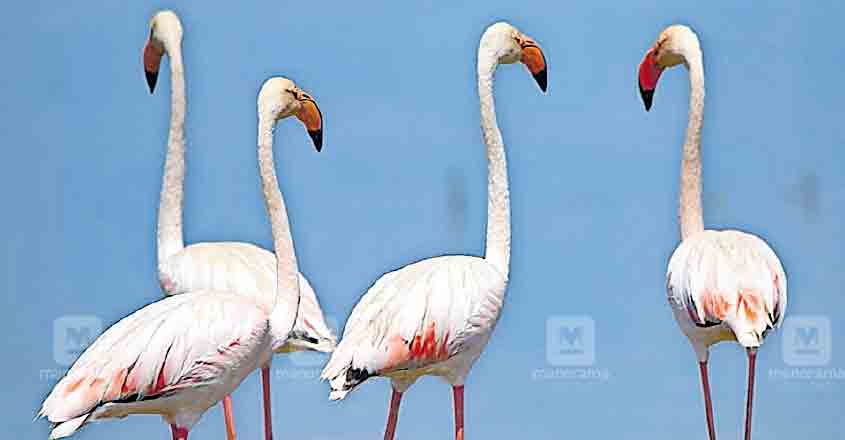 Pavaratty: The wetlands of Enamavu and nearby areas of Pavaratty in Thrissur district have taken a different hue with the arrival of greater flamingos in droves to the region. These ravishing birds have been spotted at the wetland near Ponnamutha bridge on the Venkitangu-Kannoth road.
It is quite rare for these elegant tall birds to flock to Kerala, say bird watchers and Green Habitat members M J James and Rijo P Chittattukara.
As observed over the years, in Kerala greater flamingos could be spotted at Thattekkad Bird Sanctuary, near Kothamangalam; parts of Kannur; Kozhikode beach as well as in a few areas of Thrissur and Alappuzha.
In India usually the greater flamingos migrate to Rann of Kutch, on the western coast of Gujarat, to lay eggs.
They migrate from Africa, Europe and South-East Asia. These extremely gregarious species of birds migrate in flocks and each group consists of at least 100 avians.
They can fly a distance of close to 500 km per day.
Key facts

The greater flamingo is the largest living species of flamingo. It can be  1.1 to 1.5 metre tall and weighs 2 kg to 4 kg.

It necks and leg are long.
Feathers with a pink tinge add to the beauty of the majestic-looking bird. Even though it has a pinkish-white colour overall, the wings have patches of red colour with black edges.
The beak too is red with a black tip.
Eyes are yellow and located on both sides of the head.
It feeds on small fish, plankton, mollusks and insects found in water bodies and wetlands. Before ingesting food,  a sieve-like formation in its beak filter water.
The greater flamingo is known as 'raja hamsam', 'punara' and 'araya kokku' in Malayalam.