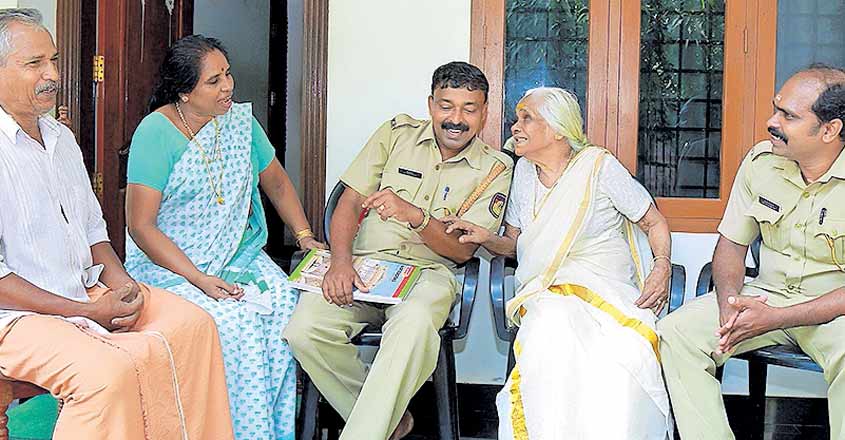 Irinjalakuda: Ageing often is accompanied by loneliness. In old age, companionship could promote happiness and even convenience.
Even authorities are making interventions to give the senior citizens a sense of being cared for as nonagenarian Janakiyamma recently realised to her relief as the personnel of the community police visited her house here at Edathirinji in Kerala's Thrissur district.
"Granny, what is your grievance," the Janamaithri Suraksha cops, on a house visit, asked Janakiyamma.
She had only one gripe. "There is nobody to listen to my songs," she said sadly. Why not, we will, said the police personnel.
Happy that she finally found somebody to listen to her songs, Janakiyamma sang for nothing less than one-and-a-half hours!
On seeing the cops, Janakiyamma was initially taken aback. "Why did you come," she asked. When they told her it was just a friendly visit, she too got into an affable mood. Her daughter told the cops that though her mother sings well, there is nobody to listen and appreciate her. When Janakiyamma too nodded in agreement, the cops encouraged her, saying that they were willing to listen.
Thrilled, Janakiyamma started singing devotional and folk songs. She even tapped on the legs of one of the cops to the tune of the song. She also sang the drama song "Potticheriyuka kaivilangukal".
After listening to all her songs with full patience, the cops told her, "You sing so well. Whenever we are free, we will come again to listen to you."
Janamaithri cops of Kattur police station E S Mani and Vivin Kollara who were on a visit to houses were witnesses to the impressive performance of Janakiyamma.
The visit was part of the drive to visit houses within the jurisdiction of the police station and collect information. Janakiyamma lives with her only daughter Vijayalakshmi and son-in-law Divakaran.
Vijayalakshmi said that Janakiyamma could sing to anyone who comes to visit her. Once, when she was hospitalised after an injury to her hand, nurses and other hospital staff were her audience. Of late, she has been suffering from memory loss, thus forgetting a line or two from the songs she is singing. Earlier, Janakiyamm used to take part in kolkali performance.