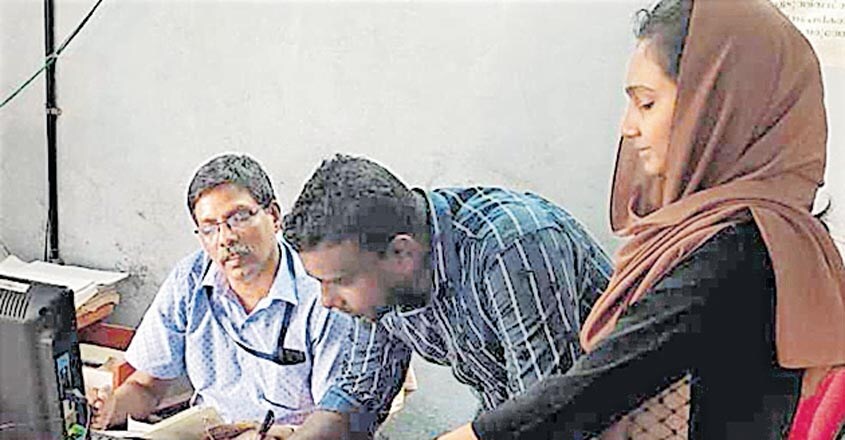 Varandarappilly: A 31-year-old man, who had filed a habeas corpus petition to rescue his lover locked up in a mental asylum by her kin, has been arrested in connection with a moral policing incident which took place in Kerala's Thrissur district some months ago.
Gafoor, of Velupadam in Thrissur, was arrested on Tuesday, the day after his marriage with Sabikha, a BDS student from Malappuram.
Gafoor and a couple of youths had allegedly threatened a 23-year-old Wayanad native, and robbed his money and a gold ring. The accused had also stripped him and took his nude pictures, the police said.
The attack reportedly happened when the Wayanad native had arrived at Velupadam to meet his lover on April 7. The accused first seized his 0.5 sovereigns of gold, then used his ATM card to withdraw Rs 4,900. Then they reportedly forced him to ask one of the relatives to deposit Rs 15,000 in his account and withdrew that amount too. The youth had filed the complaint last month.
The other accused in the case; Hafees, 30; Muhammed Rafeeq, 29 and Sruthish Kumar, 25 were also arrested.
Station House Officer (SHO) Jayakrishnan, and SI I C Chittaranjan led the probe.
Marriage after court intervened
Gafoor had made headlines last week after Kerala High Court ruled in his favour in the habeas corpus petition filed by him.
Sabikha's kin had locked her up in mental asylums at Thodupuzha and Kottathukulam for a month to foil her bid to marry Gafoor. As per the court order, a team led by Perinthalamanna SI Manjith Lal rescued her from the asylum.
Gafoor and Sabikha got married at the sub-registrar office at Kodaly on Monday afternoon. Gafoor's friends and witnesses Fasil Mohammed, Sudheesh Kumar and V M Ummer were also present when the couple uttered their wedding vows. They had planned to hold the wedding as per the religious customs at Juma Masjid in Varandarappilly.