Thrissur: Natural disasters are now occurring at a higher frequency than in the past. Floods, earthquakes, landslides, hurricanes and volcano eruptions are being reported from various parts of the world. Though humans can't stop nature's fury, precautions and knowledge of emergency response measures could save lives. Anyone can effectively deal with almost all emergency situations if they understand about these five natural disasters. Keeping this in mind a training camp was held here for students and NCC cadets at the C Achutha Menon Memorial College, Kuttanellur, the other day.
The participants also received training in first aid, road safety and awareness about the ill-effects of drug abuse. The students got training to recognise various situations where water should or should not be used to douse fire. They also gained knowledge about how to put out fire using human body.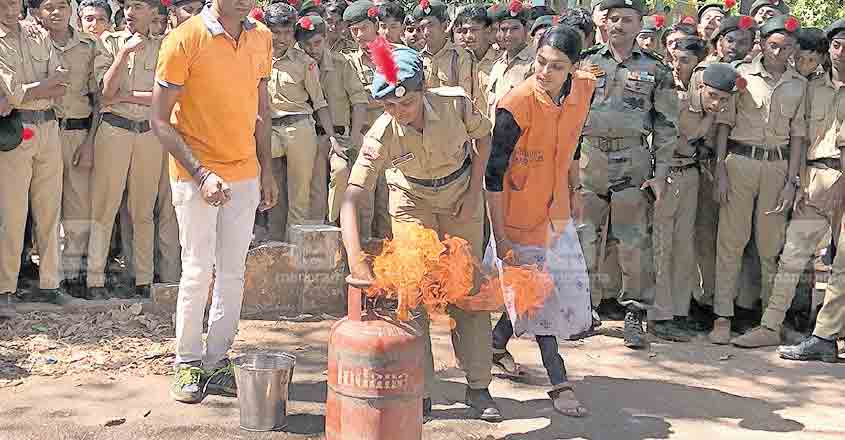 When Chaitra Satheesh, an NCC cadet and second-year degree student at the fearlessly walked towards a burning gas cylinder, every one held their breath. It soon turned to sighs of relief as Chaitra seamlessly closed the knob and put off the fire by turning the regulator. The drill was part of the training session conducted for college and school students about fearlessly and effectively handling emergency situations.
Sergeant TB Anagha, a second-year civil engineering student at the Sree Rama Polytechnic, Thriprayar, too was part of the group which courageously faced the fire emergency at the training session. She said that the training sessions to face natural calamities would be more effective. Her house was inundated during the floods.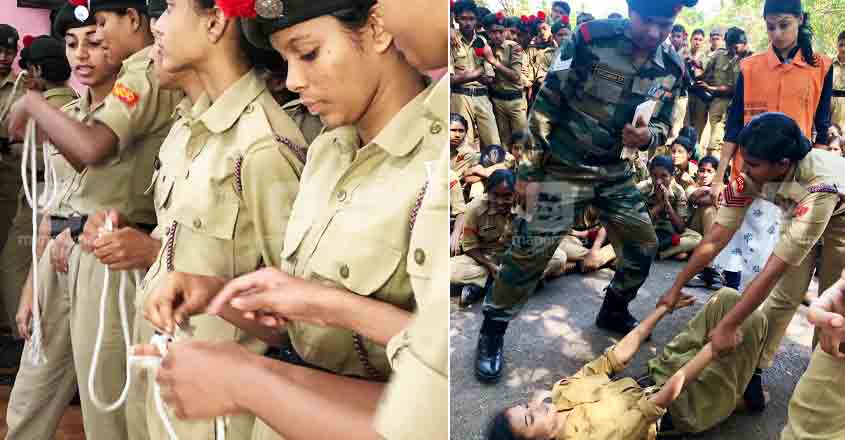 I gained training and knowledge to face such situations with confidence in the future, she added.
The cadets were also given training in 9 different types of knots that could be used in various emergency situations. From the fireman knot that is used during building rescues to the bowline knots used during water rescue, they also gained experience about 10 methods in which a person could be safely rescued from an accident site.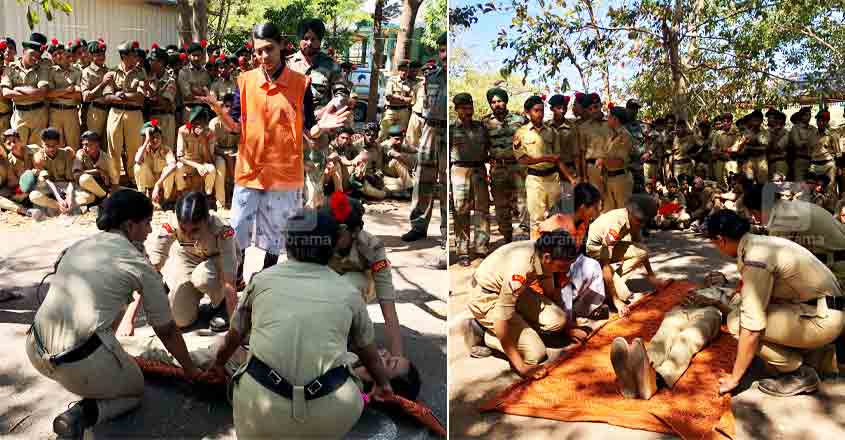 The cadets were thrilled to be part of the building rescue training session when they were lowered from the third floor of the building using ropes. This method is used to hoist or lower the persons when elevators or stairways cannot be used to safely evacuate people. Alby Roshan, a class-9 student of the St. Augustine Higher Secondary School, Kuttanellur, was eager to try out this method when he knew that it was used to rescue people who were stranded in buildings during the floods in Kerala.
"Disaster management has more significance now than ever before. The camp is a perfect stage for the children who aspire to know more about disaster management," said Camp Adjutant ANO Lt. K J Sangeetha.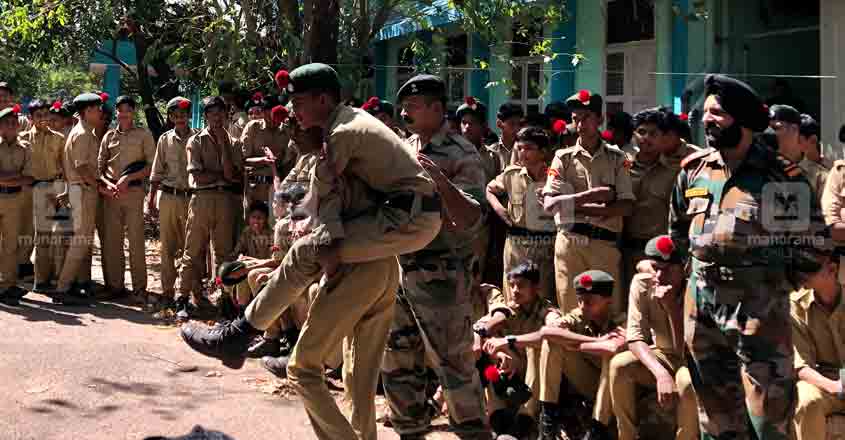 The camp was conducted by 23 NCC Kerala Battalion commanded by Lieutenant Colonel V Diwakaran. Various sessions were led by Subedar Manoj Kumar, battalion havildar Major C D Shajimon, NCC officers Lt. K J Sangeetha, T P Prahesh, T M Kamarudeen and girls cadet instructor Joshli Sebastian.
Satya Sai Disaster Management group organised the free training. In all 512 cadets from 27 educational institutions in Thrissur took part in the 10-day training camp.