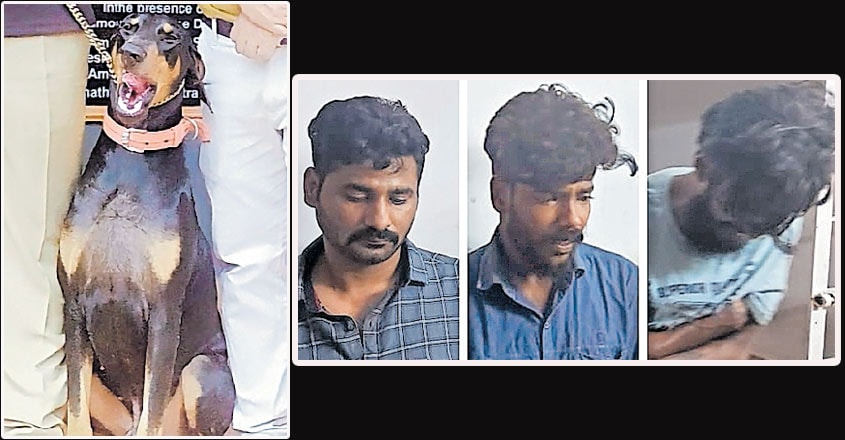 Thrissur: Rana, the Doberman, sniffed around the interiors of the house couple of times. The sniffer dog then dashed towards the rear end of the house. When it reached the wall, Rana looked at its handler and barked. The dog then started digging the ground using its front paws. When the hole was around 1.5ft deep, a plastic cover emerged – it had 360gm of charas, worth around Rs 2 lakh.
Rana, a 2.5-year-old Doberman, was able to unearth the abusive substance on its first independent mission.
The charas was found from the house of an accused in a drug-trafficking case. Uttar Pradesh native Mohammed Ikbal, 34, stays on rent at the house at the Krishna Pilla Nagar in Vadookara in the district. He along with his two aides - Thrissur native Den Sorass, 22, and Malappuram native Mohammed Ikbal 26, - are in police custody.
The police had seized cannabis from Ikbal and gang on January 24. The police conducted searches using the sniffer dog after they got a tip-off that drugs were stored at the house.
The sniffer dog
After completing a year-long training at the Thrissur Police Academy, Rana had become part of the rural police force as a narcotic sniffer dog.
It became an expert in sniffing out all types of drugs during the training period itself. Rana walked out of the academy with a performance score of 75 per cent.
Rana's training starts at 6.45am every day. The dog is given 0.5 litres of milk and solid food in the morning. Another round of training for 1.5 hours would be held in the evening. After the evening food, it would be allowed to take rest.
Apart from Rana, the dog squad headquarters at Irinjalakuda has two Labradors - Honey and Sweety. These explosive sniffer dogs are being trained to find out samples that have been hidden at railway stations, bus stands and college grounds.
Dog squad in-charge P J Suresh, dog squad handlers T R Ragesh, M F Rijosh and P O Jojo are leading the training programme.