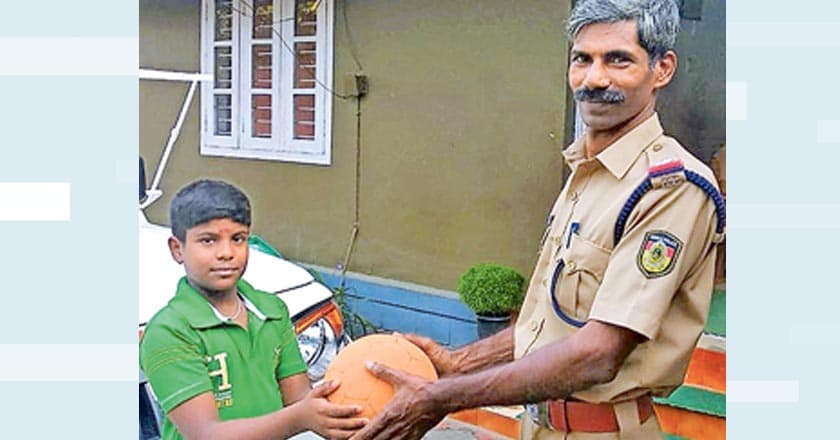 Pazhayannur: The cops at Pazhayannur police station in Kerala's Thrissur district got a curious complaint last week. The complaint was by a 10-year-old boy, Athul, and he wanted the police to find his football that had been stolen from the courtyard of his home.
The cops initially took the complaint lightly. Later, the police spoke with Atul's mother Priya. She explained that the football with which Athul and his friends had been playing for long time went missing on February 1. Athul was suspicious about those who had reached the neighbourhood for a football contest.
Athul first complained about the missing ball to his father Sudheesh, an employee at a hotel in Thrissur, and mother. The parents replied that they would get him a new football, but Athul was not convinced. The 10-year-old then scoured the internet, and found the police station's phone number and dialled the cops.
"Hello... is it the police station? This is Athul from Kodathoor. Please find my missing football...," he said over the phone.
The cops too tried to pacify the boy, and assured him that they would buy him a new football. But Athul refused to back down. He wanted the old football and gave some leads about the missing case.
The police then gave in to the child's innocent demands and began a probe.
ASI K Pradeep Kumar, civil police officers (CPOs) Bismitha and Aneesh began the search for the missing football. When they checked with the families in the neighbourhood, they received information that a group, with a football, had sought for water from one of the houses.
The police found out that the group of children had reached Kodathoor to take part in the football contest. After getting some leads from the villagers, the police were able to track down the missing football and returned it to Athul.
A class V student at the Christ New Life School at the Punarjani Gardens at Thiruvilwamala in Thrissur district, Athul is happy to have his favourite football back.