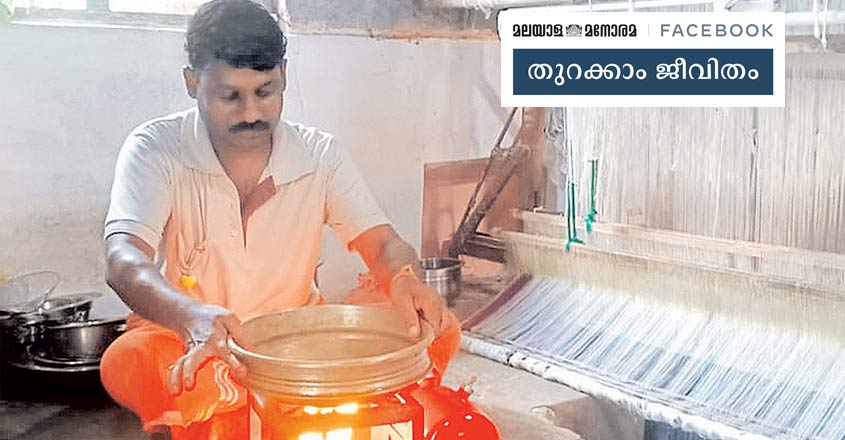 Thiruvilwamala, Thrissur: Ramesh is a traditional artisan at the famed Kuthampully, a handloom village at Thiruvilwamala in Kerala's Thrissur district. He is also proficient in depicting Gods, peacocks and elephants on the hand-woven sarees. But these days, Ramesh sits down to cook chicken delicacies every evening for a living amid the COVID-19 crisis.
Ramesh earlier weaved around 15 sarees in a month.
With the wedding celebrations curtailed due to the COVID-19 lockdown, the number of people heading to the Kuthampully village for sarees also saw a sharp decline.
During the initial days of lockdown, textile merchants asked Ramesh to cut down on the number of sarees due to the non-availability of the raw materials.
Though this issue was resolved later, the hand-woven sarees started piling up at the textile centres with no takers. And the merchants were not able to provide raw materials to the weavers.
For more than a month now, Ramesh's loom has been lying motionless.
But Ramesh has decided to fight on with or without his loom. He cooks and sells chicken delicacies from 5pm to 9pm every day. His wife Vanitha, who had earlier assisted him in weaving sarees, is his aide in the new venture as well.
Not just Ramesh, the entire village of Kuthampully is facing a similar predicament.
Majority of the weavers at Kuthampully are from Tamil Nadu. Most of them have returned to their home state after the lockdown was imposed. However, a few have stayed on in Kerala, fearing the rapid spread of infection in TN.