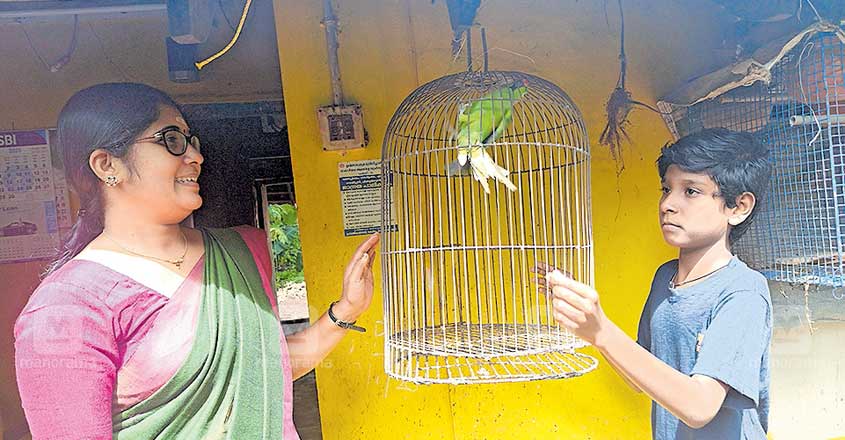 Irinjalakkuda: A teen mimic's transformation epitomises the crucial role schools can play in cultivating the talents of students. 
Anugrah, now a noted mimic, loved animals and birds since he was very young. However, his habit of imitating their sounds during classtime posed him trouble. He used to caw, moo, meow, roar or cackle bewildering teachers and even birds or animals around the school. Interestingly, peacocks in paddy fields near his house were attracted when he mimicked their sound and they occasionally visit his courtyard. 
The 11-year-old was soon seen as a troublemaker by teachers at his previous school as he could faultlessly imitate the sounds of various animals and birds. His expulsion from school was inevitable. His mother Soumya then enrolled him at another institution, S N School at Irinjalakkuda.
Soumya feared that teachers there too would ask her to shift the boy to yet another school owing to his special talent. Even at S N School, Anugrah continued to recreate the sounds of various animals and birds in class. However, instead of compulsorily issuing the transfer certificate, the school facilitated his transformation into a celebrity. 
The welcome change happened as N S Sumitha, a teacher at S N School, recognised Anugrah's amazing talent and decided to encourage him. Sumitha happens to be the coordinator of Malayala Manorama's 'Nalla Padam' project that aims to promote social and cultural activities by schools and to channel the youth energy to constructive areas.  
The support he received from Sumitha brought about a major change in Anugrah's attitude. He began imitating the sounds of many other animals and birds. He is now adept in reproducing the sounds of dog, peacock, cow, buffalo, lion, chimpanzee and hippopotamus. 
Recognition too came Anugrah's way soon. He secured 'A' grade in the sub-district youth festival without carrying out any practice. After winning this prize, the school management and other teachers also encouraged Anugrah. 
The youngster's talents soon received wider appreciation. He performed for two major television channels and also on over 20 stages. 
Anugrah also loves to draw the various expressions of animals.
He is the eldest son of Suresh and Soumya. The family resides at Subhash Nagar, Porathissery.