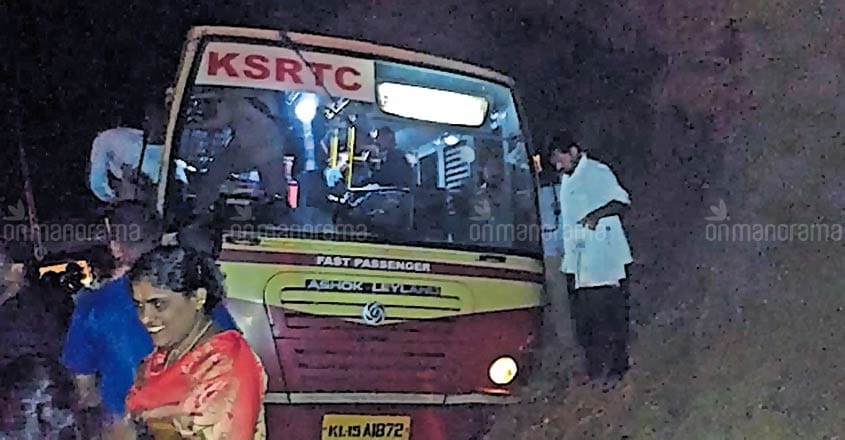 Mananthavadi: A major tragedy involving a packed state transport bus was averted here due to the driver's presence of mind. The Kerala State Road Transport Corporation (KSTRC) bus lost its breaks on a hill road as it was headed from Mananthavadi in Wayanad district to Kottayam town, via Iritti.
The incident happened as the long-route bus, carrying 87 passengers, was on a steep descent at Chekuthanthodu, above the Onnam Valavu, on the hairpin road at Palchuram at around 8.45 pm on Sunday. Driver Anumon realised the vehicle's brake was not working when he tried to stop the bus to let a lorry pass. He stopped the bus by driving it on to a mud bank, which has a deep gorge on the other side.
Passengers were rushed out through the driver's door and the front door which could be opened only a little bit. The back door couldn't be opened because the bus was resting on the mud bank. The stranded passengers were later sent in another bus that arrived from the Mananthavadi depot by 10 pm. The emptied bus was repaired temporarily and sent back to the depot late at night.
Brake trouble common
Such brake trouble has become a routine for buses in the Mananthavadi depot from where the vehicles operate through perilous routes in the Western Ghats. Four buses had the same problem in the past two weeks.
A bus from Mananthavadi had break trouble at the Pakramthalam passage as it was heading to Vadakara. The driver was the saviour then. He stopped the bus by driving it into a wall though several passengers sustained minor injuries. The same bus lost its break at Chittariparambu, Kannur, later. The bus was stopped by driving on to a tipper lorry. Nobody was injured, luckily.
A Valad-Mananthavadi bus faced the same problem on Venmani descent recently. The driver had a hard time avoiding an accident as he drove with the handbrake on and stopped by pulling off the lever. The bus was packed with students from the Valad school.
The Palchuram accident is the latest. The employees themselves say such recurring lapses have to be blamed on the laxity of the KSRTC mechanical staff, as also the shortage of spare parts. If tragedies could be averted in the four accidents that the buses faced within a few days, it was sheer luck.