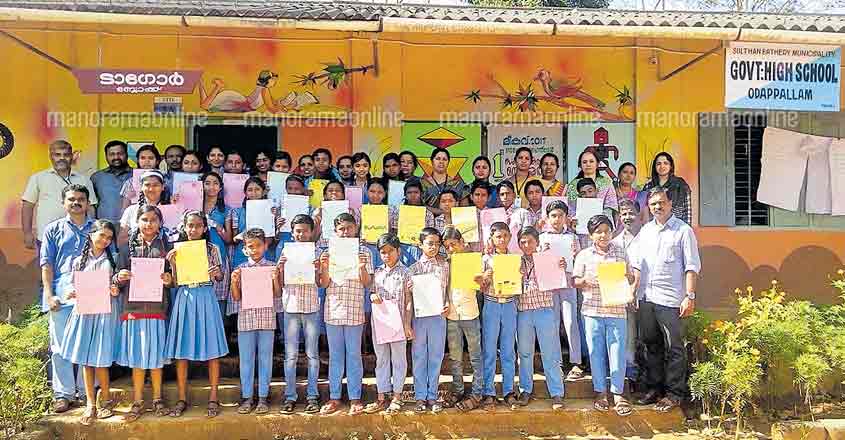 Here is a story of special international connections. Students of a school close to the Wayanad wildlife sanctuary and those belonging to schools in several countries are close friends. They are, in fact, pen pals and regularly interact by mail.
For instance, Ola, a Class 5 student of Joseph Pilsudski school in Poland recently wrote about herself and her interests to the Wayanad students. On receiving Ola's letter, Akshay Krishna of Odappallam Government High School gave a detailed reply. Both the letters were in English. The regular exchange of communication between students whose mother tongue was a regional language helped them improve their command over English.
Apart from Ola and Akshay Krishna, Adrian Blanco, a Class 4 student of Biscosal de School in Spain and Misha, studying in Class 9 at Lyceum School in Russia are also friends with Krishnapriya, Anand and Avantika of Odappallam school. In addition, Diana Vega Cerovic, a teacher in Russia and Nick Shaffer, a teacher in the Netherlands, communicate regularly with their counterparts in Odappallam school.
All this has been made possible thanks to a special 'English Lab' that has been set up at Odappallam school, which is adjacent to the forest. The students here now connect with over 300 others in 10 countries through regular mail, e-mail and video conferencing. Opened with the aim of improving the English proficiency of the students, the lab has created a major impact in the school.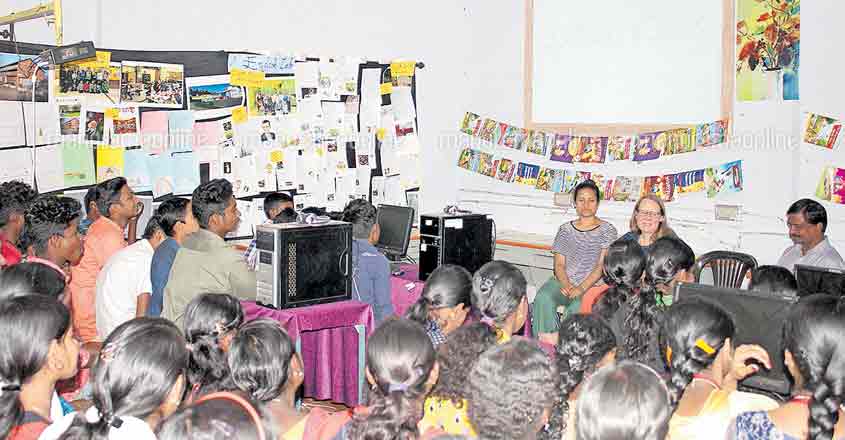 Japan, Spain, Poland…
The first foreign country that Odappallam students contacted was Spain. They initially sent greeting cards to Biscosal de School in Spain in July 2018. Soon, 35 students from each school exchanged letters three times. The letters were sent as regular mail through the Postal Department from Odappallam. Soon, the Wayanad students and their Spanish pals met through video and strengthened their friendship. The teacher coordinator at the Spanish school is Anna Frailey.
Next, 17 youngsters of Odappallam school exchanged letters and greeting cards with an equal number of students at Joseph Pilsudski school in Poland. The teacher coordinator there is Theresa B. They students wrote in detail about themselves.
In addition, Class 5 students of NMS Hayde school in Austria are pen pals of Odappallam kids. The teacher coordinator in Austria is Nina Kas.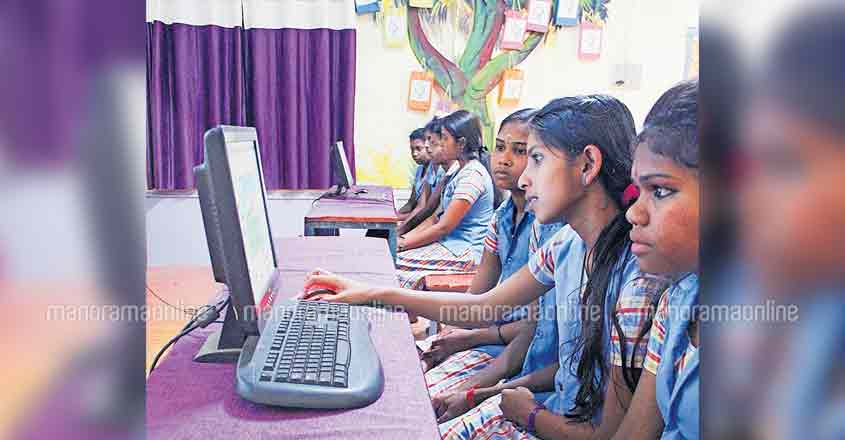 Meanwhile, it is the Izisi Misuhata English School in the Japanese city of Saitama that is in touch with Odappallam School. The Japanese students sent a detailed pictorial album which described the various art forms; traditional attire of kimono; gardening technique of Ikebana and the folk stories of Japan. In their reply, the Wayanad students introduced their Japanese friends to Panchatantra stories and musical instruments like 'chenda'. Kayo Abe is the teacher coordinator in Japan.
An international documentary
Students of Potskampstraat school at Oldenzaal city in the Netherlands contacted Odappallam school thanks to Nick Sheffer, a teacher there. Now, 16 Class 9 students from each school communicate with each other regularly via video conference. The European kids mostly speak about the festivals in Holland, the schools in that country, their hobbies and music.
Another foreign school connected with the Wayanad school is Lyceum at Bryansk city in Russia. The teacher heading the initiative there is Diana Vega Cerovic. As part of their efforts to strengthen the friendship, the Odappallam kids prepared a documentary on their school and mailed it to Russia. The documentary was screened at Lyceum school on February 8, Russian science day. The letters are being exchanged between Class 9 students of Russia and Class 8 kids of Odappallam.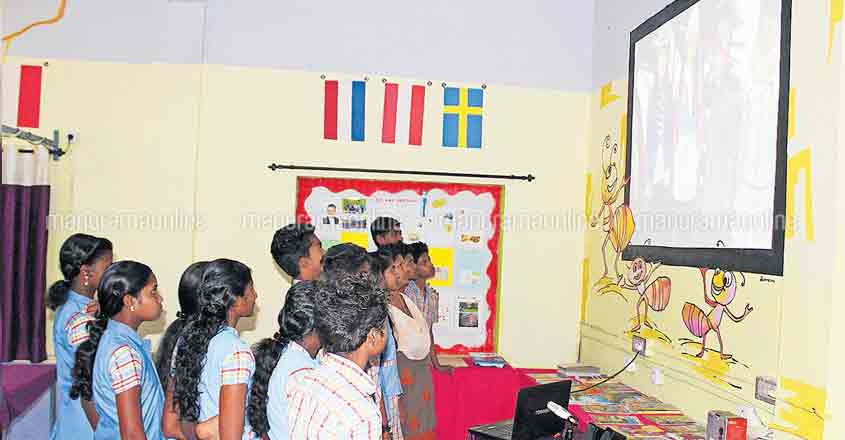 Recently, Maria and Rebecca, two women from Sweden who are in India as part of their studies, visited the Wayanad school and interacted with the kids here.
A night meeting with the USA
In the USA, Classville Montgomery School has established a link with Odappallam school. The teacher in-charge there is Annie Head. Arrangements have been completed for a video conference of Class 5 students of both schools at 8 pm Indian Standard Time on April 4.
Meanwhile, letter writing is already in progress with 44 students of Monitora school in Brazil. An equal number of Odappallam kids are writing to them. Anna Luis is the teacher coordinating the effort in Brazil.
A school in Malaysia is also in touch with Odappallam. A video conference on the topic, 'Let us learn more about the diversities of India and Malaysia' has been arranged at 7 am on April 4. Magi Mook is the teacher in charge in Malaysia.
English Lab
Odappallam kids were able to communicate with students in such different countries thanks to the English Lab, which aims to raise the English standards of the youngsters to international levels. The idea was mooted during a workshop organized to prepare the school's academic master plan. N A Jayan, a former student, provided the equipment for the lab, which helped realize the plan without delay.
All students of the school learn English with the help of interactive software installed in the computers. A 'Guest time' is also held at the lab, where the students interact directly with foreigners visiting Wayanad. During the lunch break, programmes like rhyme time and story time are held to improve the English vocabulary of the students. Moreover, English video songs and stories are played. Such activities are coordinated by student members of the 'Little kites' club of the school.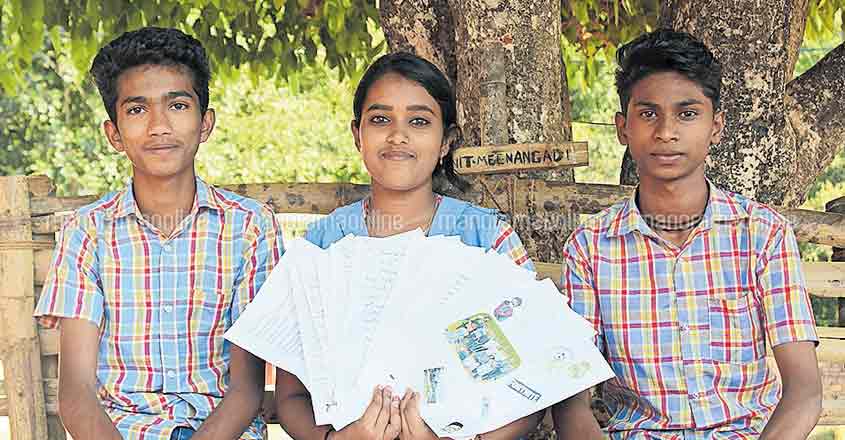 People behind English Lab
The SCERT recently prepared a documentary on the Odappallam school as part of its project to highlight model activities in Kerala's schools.
According to school headmaster Suraj Nadukkandy, there has been very good progress in the English proficiency of the students within one of the English lab's launch.
The confidence of the students grew after they were given a chance to handle English in a natural setting, said teacher P A Jithin Jith, who is coordinating the project.
PTA president A K Pramod and municipal councilor M C Sarath are also providing all support, along with a large number of people.
The teachers who are heading the activities at the English Lab are, K K Reeja, M P Shijina, O P Manikkunju, T N Deepa, A Zeenath, M K Sudha and R Indu.