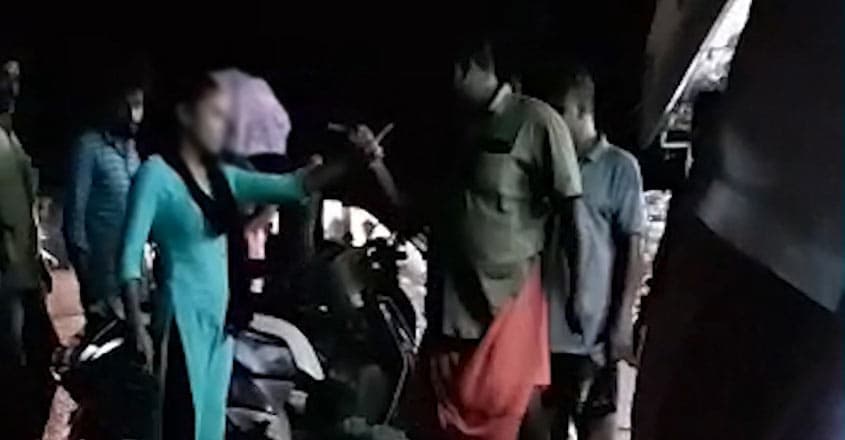 Kalpetta: As lynching episodes are frequently reported from across the country, Kerala too has joined the league with full might. A year after the state witnessed the fatal assault on a tribal youth in Palakkad district, a couple has been brutally assaulted in the neighbouring Wayanad district, bordering the Tamil Nadu state. The matter came to light as a shocking video of the crime emerged on social media on Tuesday.
It is said the couple who were at the receiving end of the man's fury are from Tamil Nadu. The clip shows they were attacked on the road apparently by a driver.
The incident allegedly took place at Ambalavayal in Wayanadu district on Sunday night.
The Wayanadu District Police Chief ordered an investigation into the incident. The Ambalavayal police has registered a case on the basis of witness' account on Tuesday morning. However, they are yet to identify the victims and the assaulter.
Meenangadi CI K K Abdul Shereef said on Tuesday that the reason behind the attack is yet to be known.
The couple reportedly came to Kerala to sell wool clothing.
Meanwhile, M C Josephine, Chairperson of Kerala Women's Commission, alleged that the delay to register a case was a lapse on the police's part. "A case was registered only on Tuesday, two days after the incident. They are yet to trace the victims," Josephine said.
As it happened
The duo was assaulted by a local truck driver in the Amabalavayal town at around 11:30 pm. The visuals taken by a witness appeared on social media by Tuesday morning. The assailant is seen kicking the man down before slapping the woman repeatedly. He also hurled abuses at them.
When the woman questioned the assaulter, he questioned her relationship with the man. To this, she replies she is his wife. None of the onlookers were seen intervening during the attack.
Locals claimed that the assaulter is associated with a political party. He was working working abroad prior to becoming a driver. They also claimed that the driver knew the victims.
The locals also said they sent away the couple to Tamil Nadu from Batheri.