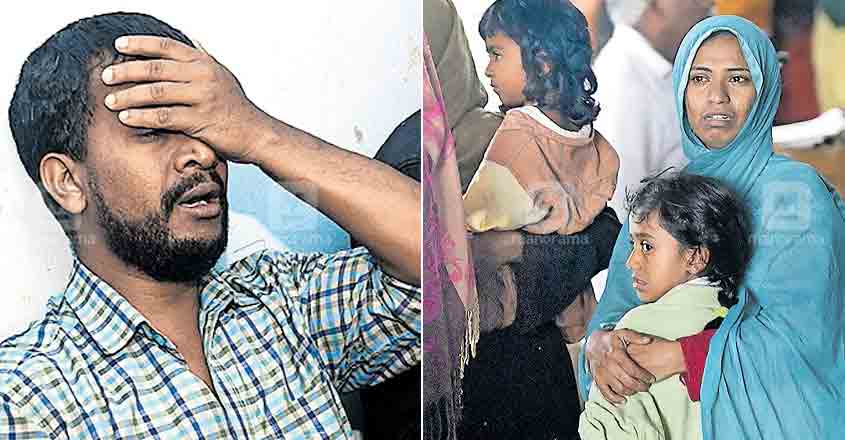 Puthumala: A landslide that lasted just 3 minutes wrecked havoc in an entire hill village here in Kerala's Wayanad district. It was precipitated by waters that flowed downhill all of a sudden at the Puthumala tea estate on Thursday. Family members tried to cling on to each other in a frantic bid to save themselves as water laden with mud and boulders gushed in, but some failed and went under mud flowing downhill.
Naushina tried to rescue her sister-in-law Hajira as the muddy water rushed thorough their house. But the strong currents swept her away from Naushina's hands.
"She was swept away as I tried to rescue her. Had I got one more second, I would have pulled her to safety. Her body was found from the same spot we lost her," Naushina said.
They had returned to the house from a relief camp organised at the Puthumala Lower Primary School as rains subsided on Thursday. Naushad, the deceased Hajira's husband, had earlier taken her, his sister Naushina and mother Ayisha to the relief camp he was leading there.
The landslide occurred as the three women went back to the house near Puthumala bus stop to clean it. All three ran out of the house through the kitchen towards a hill behind. Naushina had pulled Ayisha to safety and extended her hand for Hajira, but it was late. As she was trying to pull her up, Hajira drifted off Naushina's arm.
Naushad is a bus conductor of the Kerala State Road Transport Corporation and is also the PTA president at the LP school.
More tragedy
In the same area, Mundekkad Chandran's wife Ajitha was taken by floodwaters when she tried to get out of the house with her husband and son. Lawrence's wife Shaila went missing as she tried to get away from the rushing waters.
Ajitha was trying to get out of their house in the estate along with husband Chandran and son Aby. Chandran had got the keys to estate club house from the welfare officer so that they could be safe. Ajitha went back in again to get something from the house. As she ran towards Aby, Ajitha was washed away.
Lawrence's wife Shaila met with the same fate when she tried to flee their house along with neighbours.
A three-year-old boy who was sleeping in his cradle at the the Puthumala tea estate also died as he was washed away by waters that stormed in. The body of the child, named Muhammed Mistah, was recovered a few hours later. His parents Shaukat and Muneer escaped though they too were washed away.
Relief camp
About 50 families were moved to a relief camp from the nearby Pachakkad area after a small landslide their on Wednesday night had destroyed two houses. But Puthumala residents were not shifted, leading to the casualties.
A building that housed about half a dozen families was razed by the landslide that originated on top of Pachakkad.
Many who returned to their houses as rain subsided were also swept away.