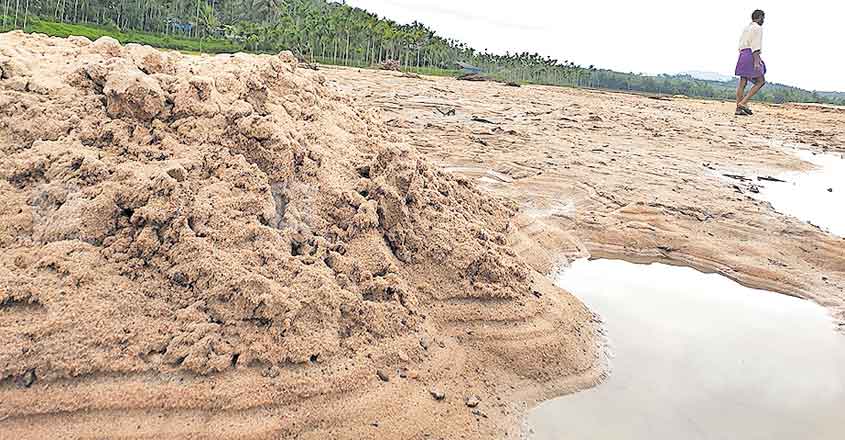 Panamaram: Wayanad was one of the worst-affected districts in Kerala due to incessant rainfall and subsequent flooding in mid-August. But now with the floodwater receding, the paddy fields in the district look like barren lands filled with sand. The nature of the earth has changed in areas where rivers were in spate and flooded the banks. The cycle of events seems to have an eerie similarity with the August floods of 2018.
The nature and structure of paddy fields and rivers too have changed. New canals have been formed right in the middle of the fields. The water in the rivers here have also dropped to unusual levels. The river banks have dried up and developed cracks, raising concerns of an imminent collapse.
Holes, and sand mounds as high as one metre have been formed. The sand came with the floodwaters and are lying in heaps in acres of fields.
The upper layer of the soil has been washed away in the low-lying areas that were flooded due to the swollen rivers.
Several of the paddy fields have been rendered unsuitable for agriculture with the aggregation of sand. The worst-affected are Mattoor, Neervaram, Manikode, and Kalluvayal fields. The farmers had sowed the seeds after the initial days of rain and these have been washed away, leaving nothing behind.
Farmers take the hit, again
This time too, the rain and floods have dealt a severe blow to the farmers. They would have to sow the seeds again as the floods have undone the initial work. The farmers had barely got their act together after the last year's floods, when the latest deluge put paid to their hopes.
Not just paddy, several farmers have lost banana and ginger too to the floods. They cannot restart the farming until the sand is removed. Huge amount of money is needed to remove the sand and restore the fields.
There are more reasons for the farmers to worry. If they remove the sand from the field and dump it outside, the farmers' face the wrath of the revenue department, panchayat, and the police. Therefore, the farmers do not dare to do that either.
The authorities are also not doing much to help the farmers. Though the farmers spent their own money to remove sand from Manikode fields last year, they did not receive any compensation.
Earth-movers were used to take away the sand and in the process the fields were damaged.
The panchayat did not help in restoring these fields, the farmers alleged.