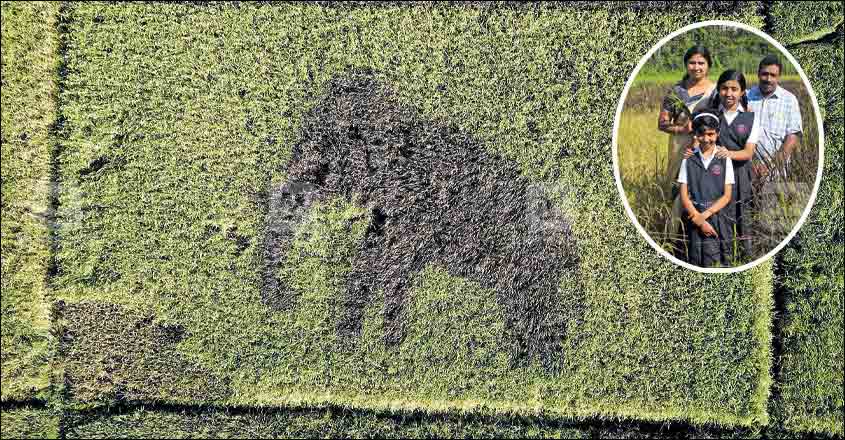 Praseed Kumar is having a field day, literally and figuratively.
Sowing seeds of perseverance, Praseed Kumar of Sultan Bathery is the paddy farmer who goes the extra mile to collect seeds that are rare to find and cultivates them to produce different varieties and colours in his field.
Willing to travel the whole country in search of paddy seeds, Praseed Kumar does not look at profits and losses if he comes to know that seeds of paddy that are rare or nearing extinction are available somewhere.
This year, he sowed 61 out of the 112 varieties of paddy that he has with him. Ten of them withered while 51 flowered. They are ready for harvest now.
This time Praseed has hidden a surprise in the field. A huge image on the field. As spikelets started appearing, the picture of a perfect tusker emerged in the middle of the field. Praseed says the picture is that of Guruvayoor Keshavan, perhaps the most famous and celebrated temple elephant in Kerala.
Well, the surprise isn't over yet, smiles Praseed while looking at the awe on visitors' face. When the tips of the spikelets sway in the breeze, it appears like a moving elephant from the top.
Painting the field black

It was artist A One Prasad who prepared the outline of the elephant on the field that was ready for transplanting of paddy seedlings. On the lines drawn by Prasad, paddy varieties like yashoda, jini and narayani were planted. For the elephant, karuvachi and krishna kamod that flowers in black were used. Around these, jeerakashala, gandhakashala and kanali were planted.

Amid squares of different colours, the elephant stands in the middle in black with its head held high. In 2017, he had prepared in the map of India in the middle of the field. Though he had prepared an eagle last year, it got washed away in the floods. Praseed has been inspired by the paddy art that is popular in Japan and China where people plant rice of various types and colours to create images in a paddy field.
Seeds from Bhutan

Praseed comes from a family of traditional farmers. They used to plant common rice varieties in their field. Ten years ago, Praseed happened to travel to Gujarat. During the journey, he saw fields where krishna kamod type of paddy that stood out with its violet-coloured chaff. He bought a handful of seeds and sowed them in his field.

What started in a cent of the land, his krishna kamod cultivation is now spread to one acre. He has sold more than 60 quintals of this variety of rice that is known for its taste and aroma.
Since then, he started looking for rare varieties of paddy. He followed every lead available and visited almost half of India to collect seeds. Outside India, he has three types of seeds from Bhutan. He grows black rare varieties like jasmine from Assam, kanali that was once native to Wayanad, black paddy, a medicinal rice from Tamil Nadu; Delhi basmati from Kashmir, and mallikuruva from Punjab.
Recently he visited Sabarimala when he heard that annuri, a wild paddy, was available in the hills and bought a few seedlings from there. Planted in a growbag, the annuri flowers in the morning and can be harvested by evening the same day. There will be only four grains in a spikelet.
Family support
It was her love for agriculture that brought Chennai resident Vishwapriya into the life of Praseed. The image for every year is chosen by their children Aakarshima and Aathmika.
The 51 in the field

Ramli, sakave periat, majnu guni, Burma black, girija gabala, sindhura madhurale, ratnachuti, ratna sagara, ambi mary, anthanooru sanna, kalanamuka, dabarsala, chinnapenni, jagalnath, kochumannan, gandhakashala, jeerakashala, nambar bath, white jasmine, raja kaima, navara, krishna kamod, black jasmine, sona masoori, red jasmine, delhi basmati, kashmir basmati, black paddy, kanali, mullan kaima, mullan kunja, rakta shali, mallikuruva, kamukin poothala, kunjikaima, valichuri, aayiram kanna, palthondi, orpandi, undakaima, kunjooju, thondi punnada, amba samudra, vellathooval, bhavani, mappila saba, swarnamasoori, poonkar, sigappu ragam, kichudi saba and karuvachi.