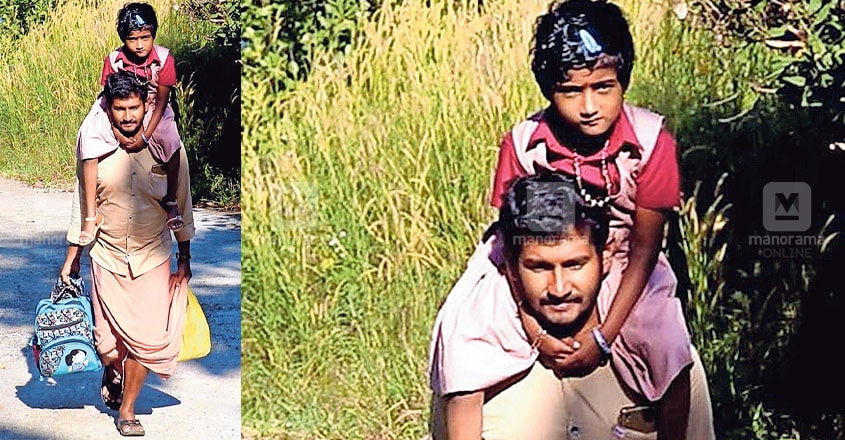 Palchuram: Parents of children with cerebral palsy face significant odds in raising them. Caregiving and constant attention take a toll on parents. Apart from unavoidable domestic chores, a man here in Kerala's Wayanad district treks 1 km carrying his daughter who is suffering from the neurological disorder to school and repeats the trip back.
Nishant does his duties with great love and affection, and never gets tired of it. His daughter, Niya, is a Class-1 student of the St. Joseph's Lower Primary School at Ambayathodu near here. While walking on the Chenguthaya forest path, Nishant has only one prayer on his lips: Niya should excel in studies and the challenges should be overcome through education and knowledge.
Nishant, along with his family, stays near the forest boundary. Transport facilities are nonexistent as there is no motorable road beyond the Kurava Ccolony. The region is prone to landslides and the family is living on the edge as the Chenguthaya Hill is just 1 km from their house.
When Nishant realised that his daughter had a genuine interest for studies, he decided to take great pains for her education. He carries his daughter downhill and boards an autorickhshaw from the base of the hill to the school, and climbs the hill with his daughter in the evening with school bag in one hand and a bag full of provisions in other.
Unfortunately, Nishant is now staring at a bleak future as he has received attachment notice against his house for failing to repay a loan of Rs 1.5 lakh taken from district bank to treat Niya. Nishant is not sure for how long he will be able to carry his daughter to school as she is growing up. He wants to ensure Niya's education by staying near to her school, and the school authorities, teachers and friends are working on that front.
What is cerebral palsy
Cerebral palsy is a set of disorders that affects movement and is caused by underdevelopment of brain. Though people with cerebral palsy may have intellectual disabilities and physical constraints, there are many who have excelled academically. As per stats, three in 1,000 children are affected by cerebral palsy in India.