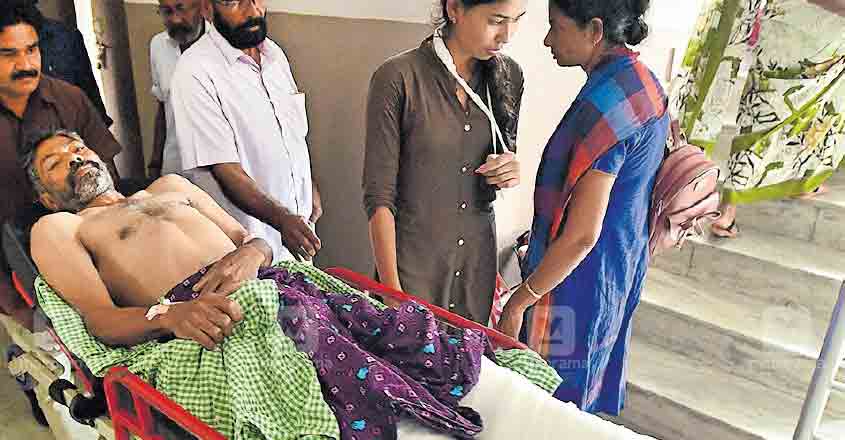 Meenangadi: A 55-year-old man fractured his thigh bone (femur) after a private bus ran over his legs at Meenangadi in Kerala's Wayanad district. The accident happened Anpathinalam Mile near Meenangadi around 3.15 pm on Thursday.
The injured man, M M Joseph, had to undergo a surgery. His daughter Neethu, a nurse in Mysuru, too had fallen from the bus and fractured her left hand.
The incident happened as Joseph and Neethu were travelling to their native place Meenangadi on the bus.
"I alighted when my stop arrived at Anpathinalam Mile. However, before Neethu could get off, the bus moved on and she fell down, sustaining injuries," Joseph said.
In his bid to stop the bus, Joseph reportedly jumped on to the front door of the bus but the conductor allegedly pushed him off. He fell down and the bus ran over his legs, causing serious injuries.
The private bus, named Parashuram, did not stop even after the accident. Local people, merchants and students blocked the road and forced the bus to stop. They rushed Joseph and Neethu to a hospital at Kalpetta.
Meanwhile, bus owner P K Jayaprakash said that the passenger was not pushed but he slipped off while he tried to get into a moving bus. Neethu also said that the bus crew had informed that they had no role in the incident.
Local people said that the crew's attempt to prevent students from boarding the bus led to the accident.
The Meenangadi Police have filed a case and investigation has been started.
Enforcement RTO Biju James said that licence of bus driver Vijeesh and conductor Latheesh would be suspended as they have been found guilty in preliminary investigation.