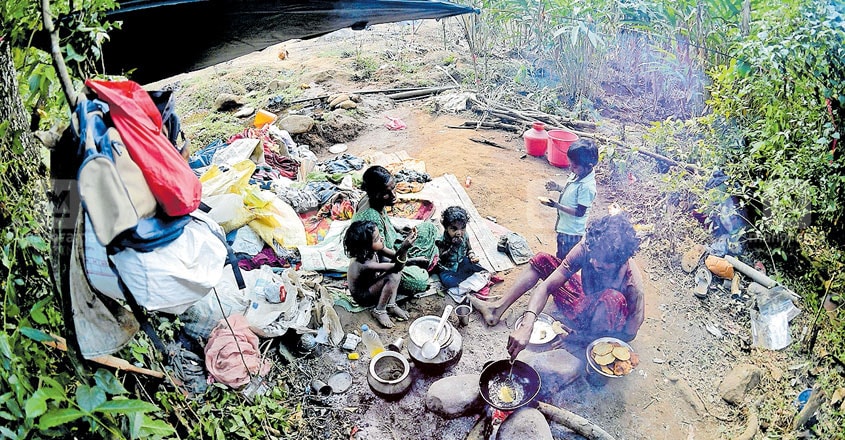 Kalladi, Wayanad: Tribal communities in Kerala still wallow in miserable conditions despite several initiatives by government agencies. Two families, with three small children, here live in primitive style in the forest out of compulsion rather than a choice to live in the lap of nature.
The families of Ramu and Raju live in the woods near Kalladi in Kerala's Wayanad district. Elephants and wild boars roam this forest. A plastic sheet spread overhead near a tree is their current home. It is here that they cook food and sleep during the night.
"I am not scared of wild animals, but wary of humans," Ramu said.
Ramu's three children sleep on sacks of cloths stacked together. His youngest child is only 8 months old, while the eldest daughter Radhika is in Class 1. As there is no space for her to keep her books at this 'home', she leaves them in the class itself.
Beneath the next tree lives Raju and his wife. They do not have kids. Though Raju's parents have a house at the Paniya Colony at Mummykunnu, there is not enough space or facilities to accommodate everyone.
The families sell honey and forest produce to make a living. Their meagre belongings are kept in the tree hollow. Old clothes and bags are left hanging from the branches. They cook over stones.
Earlier they used to live in a shed in the same forest zone. But it was lost in the floods last year.
Authorities of the Integrated Tribal Development Project claimed both families have been allotted homes under the Life Mission project. Meppadi Panchayat authorities too said that though they have been assured of proper homes under the above scheme for the homeless, the families refused to move out of the forest region.
However, Raju and Ramu rejected these statements and said that none had offered them a home. 
Only on Thursday did the authorities meet us, they claimed.
Authorities plan to set up another makeshift arrangement for the families near their old shed.