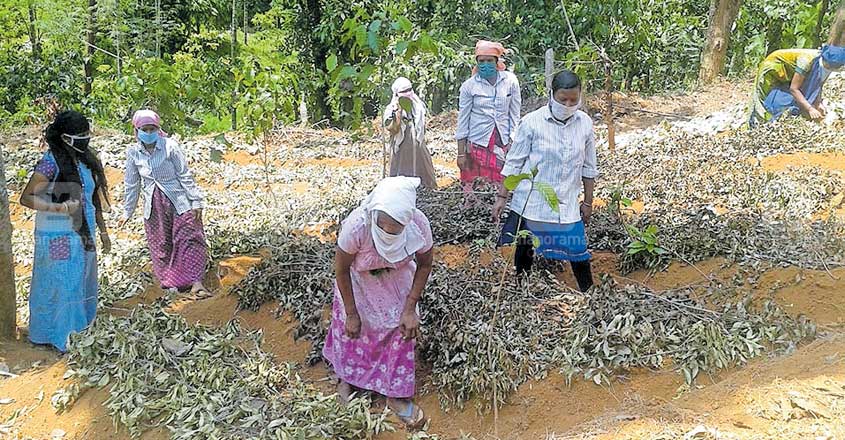 Thavinjal: During the time of COVID-19 pandemic, people in Kerala have recognized the need of self-sufficiency in food and a panchayat in Wayanad district is setting an example for the entire state in this regard.
It is the Thavinjal panchayat that has launched far-sighted efforts to convert large areas of unutilized land into a farm growing potato and other vegetables. Initially, the panchayat is planning to turn 30 acres of land at Godavari Colony in its eighth ward into a 'Potato village.' The project is being implemented with the support of the Krishi Bhavan. Keystone, a non-governmental organization, is also cooperating with the initiative.
After harvest on the land in Godavri Colony, the farming activities would be extended to other areas. The project was launched based on the call given by Chief Minister Pinarayi Vijayan to take up cultivation of potato and other food crops. In Thavinjal, seeds for farming were distributed to 90 families living in Godavari Colony. These families belong to nine self-help groups. The land was soon prepared for farming and the seeds sown.
"We have planted five tonnes of elephant yam seeds, 800 kg ginger, 600 kg yam and 100 kg long beans," says Agricultural Officer K G Sunil. The yield expected is 25 tonnes of elephant yam, eight tonnes of ginger, three tonnes of yam and 2.5 tonnes of long beans.
Many farmers have been given financial add to carry out the project, which was inaugurated by panchayat president Anisha Surendran by distributing seeds. Among those who spoke at the inaugural function included Agricultural Officer Sunil and programme coordinator of Keystone K G Ramachandran.