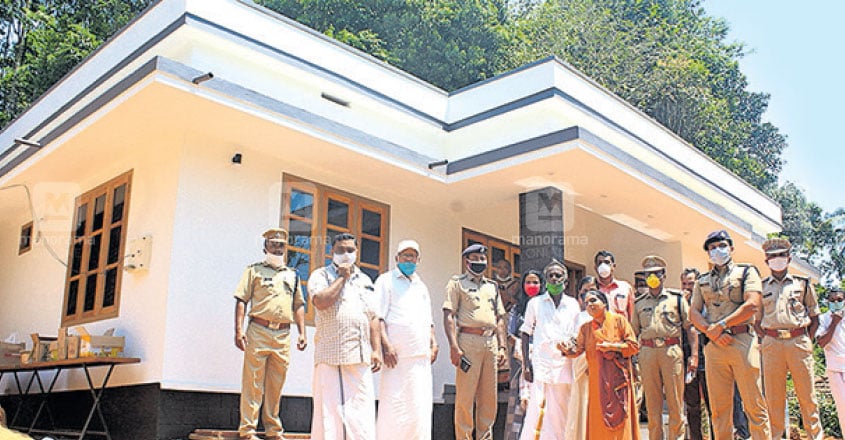 Padinjarathara (Wayanad): Apart from their tough image as enforcers of law and order as well as crime investigators, the Kerala police has a soft side to it. A poor family at Kariyattukunnu, Thalippara benefited from the big heart as they received a new house as a gift from the Janamaithri police here.
The house was built under an initiative of the Janamaithri police after the plight of Stephen and his family came to the notice of the officers.
Stephen worked a daily wage worker and found it very hard to raise his family comprising wife and three sick daughters. As the daughters, who were suffering from serious diseases, had to be taken care of, Stephen's wife Sumathi did not go for work.
Later, Stephen too became sick and stopped working. The family was in deep trouble and desperately wanted a shelter to keep the three adult daughters, who were always under treatment, safe.
Learning about the family's condition, Assistant Sub-Inpector of police K P Muraleedharan, who is also the Janamaithri community relations officer (CRO), decided to help.
Support from the public was sought and the response was huge. Work on a new house was started in September 2019 and local people volunteered as construction workers. Many others donated building materials.
Soon a new house came up at a cost of Rs 25 lakh and the remaining amount was given to Stephen's family as savings.
The key of the house was handed over to the family by District Police Chief R Elango. Among those who spoke on the occasion were DySP, Kalpetta T P Jacob; police inspector P Prakasan; panchayat president M P Naushad; ASI Muraleedharan and building committee chairman K T Kunhabdullah.