Noted director-producer Sangeeth Sivan has his latest release E in theaters right now. The paranormal thriller named E is already the talk of the town after its trailer took social social media by storm. Commenting on the nature of his first Mollywood movie after a long break, Sangeeth Sivan said E was neither a typical horror movie nor a normal thriller which takes your breath away. E is a movie that talks about people, places, beliefs and their connections with each other.
Differentiating the Bollywood from Malayalam cinema, Sivan said the former nurtured a film-maker who reaps rich harvest for the producer while Mollywood was a place, where a film is a food for thought with meaningful, thought-provoking grass-root level stories.
"You don't even need a story as such to do a good cinema. You just need a thread. Cinema evolves by itself from the premises. I have never been to Idukki and I failed to find a story in the Dileesh Pothan movie Maheshinte Prathikaram. But the movie amazed me and forced me to watch it more than three times," he said. Sivan added that after doing a series of entertainers in Bollywood, he always returned to Kerala to do a good movie.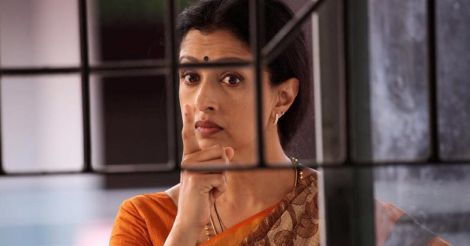 A still from the movie 'E'
Sivan said nature had added some unplanned colors to the movie while shooting a ritual which portrayed a paranormal sequence. "We prepared for a scene of rituals on the set of the film. Every time we got ready to shoot, a strong wind would blow, destroying the floor. When the same thing happened thrice, we got nervous and the shoot was paused for a while for the nature to settle down," he said.
Regarding the long gaps between his films, Sivan said he would settle down for a film only when he hit upon a good idea. Otherwise, he keeps himself busy with another passion, still photography. "I don't feel it's necessary to make film after film since you are a director. I am very rich in the sense that my needs are poor," the producer director said.
The movie speaks of the relationship between a mother and daughter while detailing the importance and past of the house and the surroundings they live in. It addresses several superstitious beliefs and mythology still prevalent in many parts of Kerala.