Does your favourite star sport a six pack? We bring you the story of the man behind these muscles, Abu Salim. It is his hard work and dedication which goes behind each and every actor nowadays.
When a certain role demands the actor to put on muscles, they approach Abu Salim. These actors become students of muscle guru Abu Salim who was once 'Mr. India'. There were many who were surprised by Vikram's terrific body in 'Ai', but the actor hugged Abu Salim and publicly proclaimed that, "In body building, Salim brother is my model". Mammootty, Mohanlal, Nagarjuna, Vikram, Nishanth Sagar, Dileep, they all call Abu Salim when they want to build their bodies for the different characters in their films. The great Kamal Hassan, who has heard tales of Abu Salim's body building once asked him, "Why don't you come along with me?".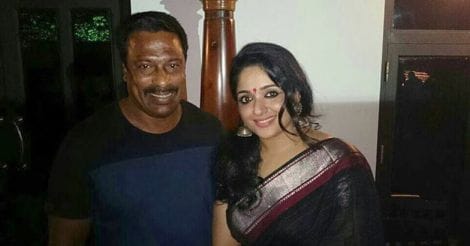 Abu Salim with actor Kavya Madhavan. Photo: Manorama
"Brother, tell me the secret to become slim," begs Kavya Madhavan. Most of the South Indian actresses are fans of Abu Salim. This man has proved that one can find a place in the hearts of audience not just through a beautiful face but a fit body as well. Abu has completed nearly 200 films by now. Even though he has acted as a hero in many languages including Malayalam, Tamil, Telegu, Kannada, and Hindi, body-building is where his heart is.
Abu Salim's journey as a body-builder began in 1981 when he won the title of 'Mr. Calicut.'Fame and popularity followed. He became 'Mr. Kerala' in 1982, 'Mr. South India' in 1983, 'Mr. India' in 1984, His glory did not end there. He won 'Mr. South India' title in the years 1986 and 1987. He again won the 'Mr. India' title in 1992. Even though he is nearly 60 years old now, it does not show.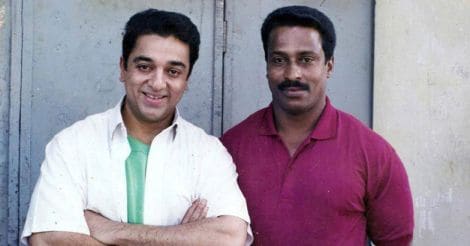 Abu Salim with actor Kamal Hassan. Photo: Manorama
Abu Salim comes on-screen as a robber or 'goonda', but he was a Sub-Inspector in real life. Abu had quit that job to pursue cinema, which was his passion. His son Sanu Salim, who is a professional photographer, has acted in 3-4 films by now. In order to familiarize locals with the taste of yesteryear delicious food, Abu Salim and his son are running a restaurant named '1983' in Kalpetta.
Abu Salim, who lived for muscles, is now battling for muscles. The actor is geared up in arms for a nationwide protest against the system of injecting medicines and building fake muscles. He claims that building such fake muscles is a threat to lives. He also says that there are many gymnasiums that support these kinds of practices. People like Mammootty have also come forward in support of Abu Salim's initiative. Abu Salim adds that he has already had discussions with top people in the government regarding this.
Salim's Mantra
Hard work is what is required for fitness. But there are a few tips.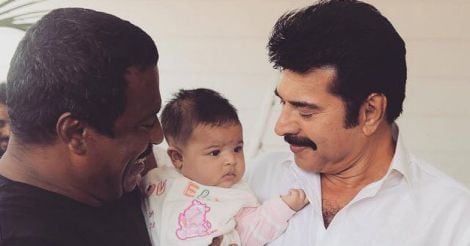 Abu Salim and his grand daughter with actor Mammootty. Photo: Manorama
About Mammootty- Those who think what is the purpose with regular exercise and proper diet must think of Mammootty. Don't you want to become like that?
Learn to say a 'No'- There would be many people to prepare things for you. They might give you fried and roasted foods. But learn to say 'no'.
Learn to say 'Yes'- Don't feel lazy to get up early in the morning and exercise. Start your day by thinking, 'Yes', I will exercise today.
Drink lots of water- For fitness, you need to drink a lot. Drink pure water, not alcohol.
First day of the month is always the villain- First day of the month is always the villain and that date is what makes people stay away from exercise. Those who think that they will start exercising from first of next month are the ones who end up being lazy. If you decide on exercising, start it from that day onwards.
There are no powders and tablets for fitness- You cannot increase your fitness by eating tablets or powders. Unless you sweat it out, you cannot even dream of a six pack abs.
Abu Salim on Stars
Mamootty: Mamootty has the fittest body. His body is proportionate. Mammokka's body has all the qualities that are required for a body-builder. (Obviously, he rides a cycle everyday for 25 kms to stay fit)
Mohanlal: His body is very flexible. His body is quite broad, so he looks fat in some movies. He used to be a wrestler, and his body is very powerful.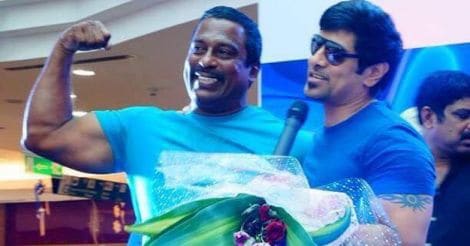 Abu Salim with actor Vikram. Photo: Manorama
Vikram: God gives this kind of a body to only a few people. He has the determination to keep that intact. Vikram is ready to do any hard-work for maintaining his body.
Kamal Hassan: His body is flexible like Lalettan's. He works hard like Mammootty. If you look at his body, you will know what the art of body building is. Haven't you seen him coming on-screen as a tall and short guy?
Nayanthara: Her body is really fit. It is like the body of a strong iron lady. There is no other actress who is as fit as Nayanthara.