"Hey bro, I was right here long before the new generation guys started flexing their six packs".
If there is anyone in Kerala who is qualified enough to pass this comment at the youngsters of this generation, who sweat for hours in the gym, that would be our own Arnold Schwarzenegger, Abu Salim. Undeniably, Abu can be crowned the emperor of musclemen in Kerala.
The actor-former cop is now awaiting the release of his new film Loham, which stars Mohanlal in the lead role. Abu plays Ameer Amanullah, a North Indian, who is the right-hand of Mohanlal's character.
Listen to the man himself
"Director Ranjith called me with the offer. "Abu, grow your beard, shave your head", he told me. Right there, I knew that this role was a different one. My getup in the movie is similar to that of Dwayne Johnson (Rock), the Hollywood star. Just like Rock, my character is super-strong.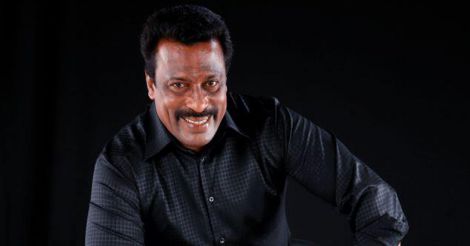 Abu plays Ameer Amanullah, who is the right-hand of Mohanlal's character in 'Loham'
"Previously, I had played a full-fledged role in Ranjith's Prajapathi. I was Kaatti, the right hand henchman of Mammootty. Now in Loham comes another positive role with another superstar of Malayalam cinema," he said.
About Loham
It will be one of the best action movies taking birth from the association between Ranjith and Mohanlal. The highlight would be the action scenes involving Mohanlal. Lalettan has drastically altered his physique for this movie. He and I have jointly worked out in the gym for several weeks. His dedication is unmatched. The action choreography was handled by Stunt Siva, a leading stunt choreographer in Tamil. The movie has more than enough in it to thrill all Mohanlal fans.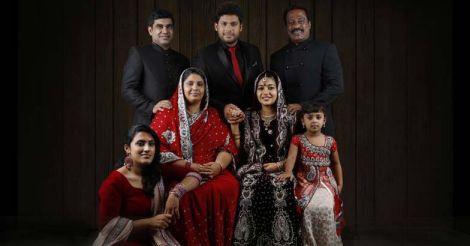 Abu Salim with his family
The age and muscle correlation
For me, managing my body is a part of my daily life. I was selected as Mr India twice. I was Mr Kerala in 1982, Mr South India in 1983 and Mr India in 1984. I was Mr South India again in 1986 and 1987. My second Mr India title came in 1992. Irrespective of my schedule, I always accommodate a strict exercise regime into it, and this is my advice to the youngsters too.
Arnold and I
I have only one role model right from my childhood—Arnold Schwarzenegger. I tried to emulate him with my physique and in fact, I would attribute my interest in this regard to his films that I grew up with.
It was Tamil film star Vikram, a good friend of mine, who informed me of Arnold's visit to India for the promotion of the former's movie I. Whoever in their right minds would spare a chance to see their childhood hero in person? So I promptly went to Chennai.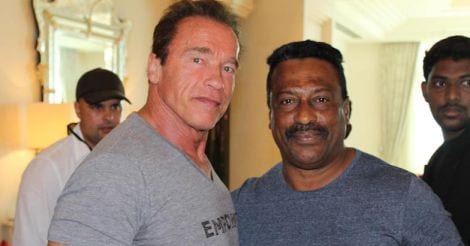 Arnold is my role model, says Abu Salim
My visit to the hotel where he was staying yielded no results as the security officers there refused me entry. Finally, it was through a police officer in Kerala, who was also my friend, that I got permission to meet Arnold.
When we met, he greeted me before I did; this reveals the greatness of his character. I introduced myself to him and got myself a pat on my shoulder from him. That memorable moment was the fulfillment of my lifelong dream.
Vikram as a friend
Vikram and I are friends from his early days in the film industry. We have acted together in several films including Indraprastham, Red Indians, Street and others. We have been able to sustain this friendship over the years. He annually visits me at my home, and spends time with me and my family.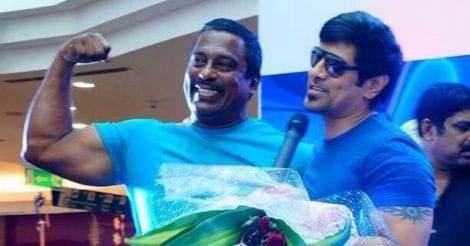 Vikram and I are friends, says the actor
New ventures in the pipeline
I am also starring as Jayasurya's father in the movie Amar, Akbar, Anthony. The character, named Stalin Mammaali, is a comrade and a body builder. The character has a humorous layer added onto him.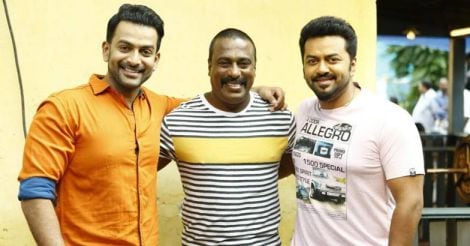 Prithviraj, Abu Salim and Indrajith on the sets of 'Amar, Akbar, Anthony'
Abu Salim, a native of Wayanad, retired from the Kerala Police as a Sub-Inspector in 2012. His wife is Ummakulusu, and the couple has two children.