While the Malayalam film industry revels in the aftermath of runaway successes like Ennu ninte Moideen & Premam; Aju Varghese is quietly gaining an impressive enough footing, and that too, without much hullabaloo. Once upon a time, Malayalam films without Jagathy used to be a rarity, and now that position officially belongs to Aju.
With busy schedules, fame & newer opportunities, comes a cartload of gossips too! Aju comes late to the sets and that he has major attitude issues and even news that he has hiked up his fees. It may not always be feasible to give fitting replies to all of this, but Aju strongly feels that he has to make his stand clear on certain farfetched stories.
The habitual late-comer on the sets! Is that you, Aju?
It's a funny thing that news such as my lack of punctuality on the sets comes with a question mark in the end! The people, making up these stories are themselves not sure if there is any truth in it. They want the readers to decide or come up with answers. The newsmakers expect people to make judgements. I have no clue as to why stories like this even bother to make an appearance. Do they take Malayalees to be fools? To waste their time reading rubbish? Only the truth has a life here and only credible news gets a following.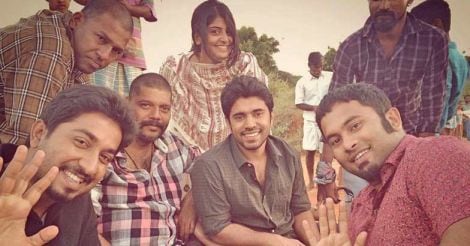 Vineeth, Nivin Pauly Manjima and Aju on the sets of 'Oru vadakkan selfie'
It seems even Dileep had to wait for you?
If they have any doubts regarding such matters, why not get it confirmed from the producer Ranjith of the film Two Countries, or the director Shafi or why not from Dileep himself? What is the point in spreading fake news without any base?
Dileep is the one that brought me into films through Malarvady Arts Club. Though I played small parts in his films like Ringmaster and Mayamohini, Two Countries is the first full length film where I share screen space with him. I play his close buddy in the film. I am extremely delighted that I got this opportunity and rumours like this is indeed hurtful.
As far as I am concerned, all this is a new experience for me. I have a lot to learn from Dileep. I am already tensed about acting with him as his comic timing is just superb. The Shafi & Dileep combo is known to come up with comedy from thin air! I am just wonderstruck and this is a whole new learning experience for me.
Heard you get paid as much as your friend Nivin Pauly?
That's a jolly good news! Let's hope that the people of my next film hear about this and decide to pay me that much. Will be as good as winning the lottery then! Everybody knows that the remunerations for an actor playing the lead role and that for a character role can never be the same scale. Who is dumb enough to believe that?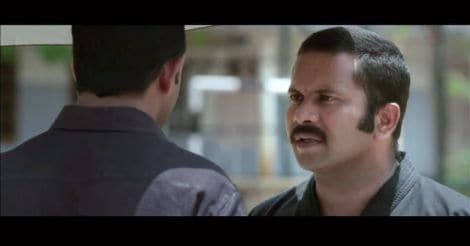 Aju in 'Su..Su…Sudhi Vathmikam'
About new projects?
Su.. Su..Sudhi Vathmikam, Adi Kapyare Koottamani & Two Countries are the films that began shooting at the same time. Sudhi… has completed its schedule. Jayasurya plays the lead Sudhi in the film and it depicts his life journey. It is a feel-good movie with an inspirational theme.
After Kunjiramayanam, Adi Kapyare... is a film that has Dhyan, Neeraj & myself. It is a small story that happens in a hostel. It is a film that all of us can relate to our college days. Friday Films is the production house. Zachariyayude Gharbinikal, Aadu & Peruchazhi are some of my previous projects under this banner. They are very keen on promoting and encouraging new faces in the industry.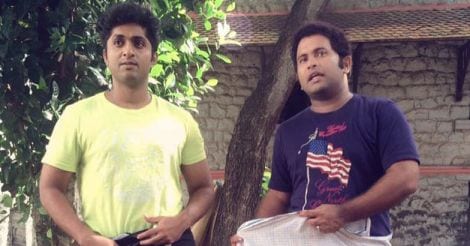 Dhyan and Aju on the sets of 'Adi Kapyare Kootamani'
Apart from completing the production of a film, getting the finished product to an audience in the theatres is something that the director looks forward to. Friday Films goes that extra mile to ensure this and it is definitely a great thing.