Archana was surprised when Abish called her up one afternoon to warn her about an alliance their families were planning. The buddies conspired to foil their parents' plan to get them married and went their ways. The die was cast anyway, as future events proved.
"I could not even think of marrying him because he has been my best friend since I was in fourth standard," Archana said. Both of them belong to Malayali families settled in Delhi.
"My father and Abish's father are close friends. You will be shocked to see our combined family photo. We are too many that any gathering looks like a public meeting," Archana added.
Abish, called Appu by people close to him, is a standup comedian and the host of a live stage show titled "Son of Abish". He also hosts a popular web show.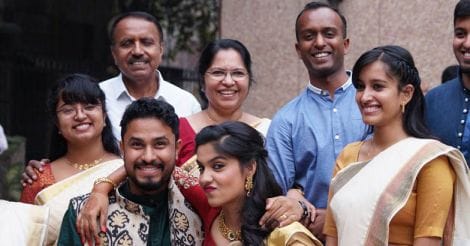 'Abish has been my best friend since I was in fourth standard, said Archana
While Archana was hosting a television programme during her college days in the Mar Augusthinose College at Ramapuram near Pala, she used to run the script by Abish, who had by then become a popular VJ in Delhi. That is when she got an offer to don the title role of 'Neelathamara'.
Does Abish watch Archana's films?
"I have seen her as an actress before everyone else did. She would participate in all get-togethers right from her childhood. She was very confident, energetic and emotional. So I was not surprised when 'Achu' became an actress. But when I watched her movies, I realised that the actress in her was much higher than I thought," Abish said. "Marriage does not change anything related to her career or ambitions. Ever since she agreed to marry me, there was a slight change in the way she talked to me. Seemed like she was trying to be respectful! I nipped that then and there," he added.
Archana said they were never in love. "We were too close to fall in love. If I met a handsome boy, I would joke to Appu about proposing to that boy. Even he was like that. I knew very well that Appu had no concept of an arranged marriage," she said.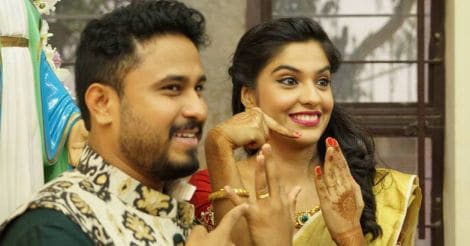 Actress Archana Kavi got engaged to standup comedian Abish Mathew on Nov 1. Photo: Facebook
"That is the reason for us to thwart the parents' plan to get us married. We were afraid of losing our friendship. It took us about four or five months to change our decision," she added.
"Marriage will change our lives. I wanted to be in a relationship which did not affect my intimacy with family. I did not want to be away from Appu. I was toying with my confusion when Appu called up and said that he felt something had changed. I too felt the same way," Archana said.
So, what kind of programmes does Abish do?
"I liked to entertain people right from my school days. Music in school, theatre in college. Then I became an RJ. Finally I developed my own style of standup comedy. A show could go up to two hours. I am the lone presenter. I have to prepare the topics and jokes to make people laugh for two hours.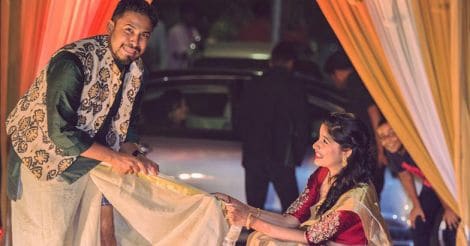 'Archana is very cool and she is a complete self-made woman', says Abish
"My show is named 'Son of Abish'. My father used to mock me thus. When I thought of a name for a live show, I thought this. I have done many programmes in India and abroad and met many girls but I was not that close to anyone to marry her. Though I said 'no' to Achu's proposal initially, later I felt that she would be the perfect girl for me. She does not judge my crazy personality but join the craziness.
"She is an excellent cook. She likes to cook special items and show them off. Can't you see I am a foodie," the comedian said.
Is Archana okay with Abish's irreverent jokes?
"That is her quality. She is very cool. She knows how to balance family life and professional life. Another quality I like is she is a complete self-made woman. She thinks independently and sets her own career," Abish said.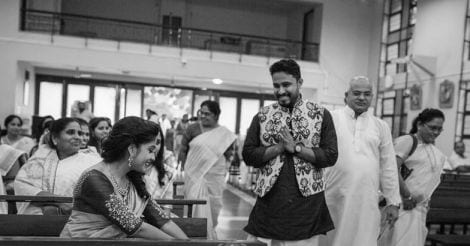 Archana and Abish will be getting married in January. Photo: Facebook
Archana said she first went to watch 'Son of Abish' with her parents. "I was not very comfortable by the innuendoes and puns of the show but my parents really enjoyed it. Abish's mother was also with us. My father said their generation has witnessed even more outrageous comedy. That put me at ease," Archana said.
The actor has started preparing for her January wedding. She has settled for a traditional sari for the engagement. She will wear a wedding gown designed by Althea Bridal & Bespoke, which had also done the wedding dress for her brother's wife.
"If you ask Appu what he likes me to wear for the wedding, he would say it is my choice," she said.