Successful people don't get there by sailing through life without passion. Most of them are distinguished by their ability to follow their heart. They have the courage to go ahead with determination. And it is this perseverance that sets people like Aman Trikha apart.
In the last two years, this twenty-eight year has sang his way to fame, yet he is firmly grounded. And now, he has also enthralled the Malayali audience with the Malayalam version of the melody 'Tum He Ho' from the movie 'Aashiqui 2.'
Born in Delhi, Aman had absolutely no idea that he would end up singing songs in different languages. He has, so far sung in 12 languages and his Malayalam version is a huge hit.
Music fascinated Aman Trikha from a young age, and he was playing the keyboard on his own without any formal training. The panache and passion of music kept on increasing and that prompted him to try his luck at the reality show, Sur Kshetra, on Colors. Although the singer got eliminated at a crucial stage in the competition, he was awarded the 'Man of the Series' award and his mentor, Himesh Reshammiya, backed his passion for music.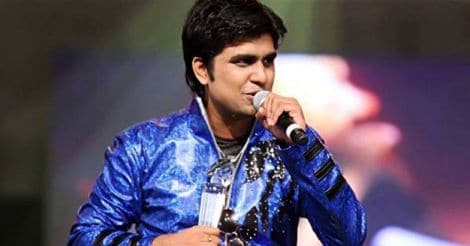 Aman was awarded 'Man Of The Series' at Sur Kshetra Grand Finale. Photo: Facebook/amangtrikha
"It was because of his support that I got my biggest break in the movie Oh My God!, where I sang Go go Govinda along with Shreya Ghoshal. Pictured on Prabhudeva and Sonakshi, it was the best debut anyone could have asked for," says Aman. He, later got up with another hit by Po po from Son of Sardaar, also composed by Reshammiya. Since then, the singer has belted out several peppy numbers, the latest ones being Har har gange in Bhoothnath Returns and Koshampa from Kaanchi and Aashiq Mizaaj hum yo from The Shaukeens.
Aman Trikha, is now trying his luck with regional films. When asked what it feels while switching from language to language, he laughs and says, "South Indian languages are more wide and open. It feels great rendering dialects and learning new words and expressions. Recently I got this opportunity to perform before Delhi-based Malayali audience on their association day and the feedback I got took me on cloud nine. For someone like me, who has never before listened to Malayalam songs, singing in this language was challenging and interesting."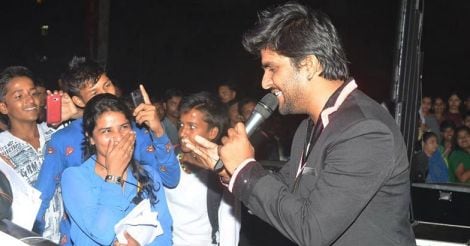 Aman interacting with audience during a concert. Photo: Facebook/amangtrikha
Talking about his stint with reality shows, he says, "The audience have different perceptions about such shows. If taken in a positive way, it's perhaps the best exposure that one can dream of. The reality show itself has taught me that there is a lot of good talents around you and to survive, it is extremely important to keep churning out good work and prove yourself. In fact the real struggle starts after such shows. Many eyes will be glued to you, you will be watched by so many. No matter what big heights you reach, its the humbleness and courteousness that will take you higher."
Apart from these, Aman Trikha has also ventured into non-film music and released his first single, Mahiya Tu Hi Tu. The singer who tops his list with several dance and romantic numbers, working with many composers, says it would be his dream project to work with AR Rahman.
Interestingly, the singer who shares his birthday with Superstar Rajnikanth, confesses about his desire to sing for Malayalam film industry. "It would be really great to come down in God's own country and lend my voice for the people who had been hearing legends like Yesudas and Shankar Mahadevan", said the singer.