Deepak Dev, a name distinctly etched in the world of Malayalam film songs, is known for his craft of seamlessly blending modern orchestration with melodious strains gracefully.
Even as tides of various genres in music have passed by in the tumultuous sea of creativity, Deepak Dev has been gliding smooth and undeterred, churning out his kind of music, one after the other.
Onmanorama catches up with Deepak Dev, the melody wizard as he wrests a few minutes off his busy schedule for a chat.
How do you think the present day songs are different from its earlier counterparts?
Today, songs are based on modern-day situations. Stories based on the quaint Kerala environment are quite rare now. So opportunities to compose songs in the backdrop of such settings have gone down tremendously. In the early days, lyrics were written first. But now the trend is to compose music first and then write words according to the tune. So the attention and importance that lyrics begot in the olden days have become a rarity with regards to modern day songs.
Do we have materpieces in songs now, the kind that we used to enjoy from old days?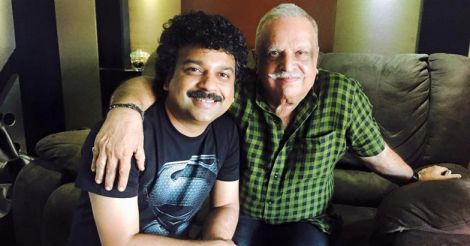 Deepak with singer P Jayachandran. Photo: Facebook
You find those songs as masterpieces because you hear them after so many years. If you want to know whether today's songs are memorable, you will have to wait for another twenty years and to hear them again. For instance, if you hear songs like Karale, Karalinte... (Udayanandu Tharam) or Swayamvara Chandrike... (Chronic Bachelor) now, you may still remember them. But they were composed ten to twelve years ago.
So, the fact is we, as music composers, are trying our best to create masterpieces. But we cannot judge whether a song would transcend eras just after a year or two after the composition is done. What makes a song memorable is the way it connects us with out past. When today's younger generation grows old and listens to present day songs years later, they may connect them with their nostalgic memories. So we cannot say that today's songs will be completely forgotten in future.
Do you think there is a change in the musical aesthetics of the audience now?
The taste of audiences keeps changing. If you keep the melody aspect out, the packaging of film songs will keep changing all the time. That is common to all aspects of life and lifestyle. It is a fact the tastes are subject to change. I am a music director of this age, so I am moving accordingly.
If I were to have been working as a music director 25 years ago, I would have done things that were prevalent in that time. Above all, a situation is what determines the style of songs and the kind of melody it carries. It is the situation that takes the call.
Shouldn't lyrics be given some more importance?
Earlier, songs were verse-based. They were poems which were tuned and fine tuned into beautiful songs. Today, the vocabulary has changed. The songs and their lyrics are all dependent on the storyline of the film and the certain lifestyle it portrays. Today, poems are not getting the importance they used to get during olden times. It is primarily because the style of communication has changed.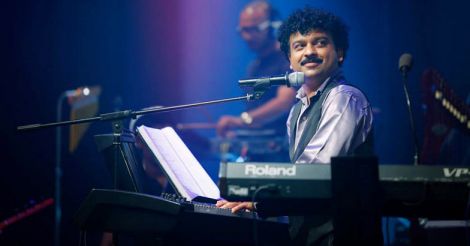 Deepak has been gliding smooth and undeterred, churning out his kind of music. Photo: Facebook
The dialogues in films are now colloquial contrary to the serious and formal ones exchanged in the earlier days. The slangs are varied and things are conveyed in a simpler way. The same change is reflected in lyrics and the grammar in today's songs too. That doesn't mean that the lyrics have lost their sheen; the approach has changed, and that reflects. Of course, lyricists do make compromises while writing to suit the tunes.
With a fast growing list of singers, what are the challenges they face?
In fact, most of the singers sound almost the same. Very rarely do we find a singer with a distinct voice. It is the same with female singers as well. Another undeniable fact is that most of the singers these days concentrate more on live shows and world tours once they get noticed after a song or two. Practice in studios is always advisable for perfecting the art of singing.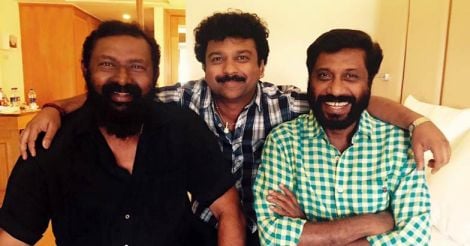 Deepak Dev with Lal(L) and Siddique. Photo: Facebook
With more stage performances the singers hardly get the chance to practice singing in studios to whet their talent. Previously, singers had to sing a full song to record them. So you can imagine the effort involved in grooming their voice. A singer in those days became popular among masses after fifty or more songs. But the media now has grown so exponentially that a singer earns fame through a single song. It is not their fault. It is the vogue of the age.
Your upcoming projects
I am currently working on the music of King Lear by Siddique-Lal and Thilothama directed by Preethi Panicker.