Jayalal Menon, a native of Alappuzha, never had a stint in films or in story writing before. But his story is running to packed houses in theatres bearing the title Life of Josutty. One of the producers of the film, Jayalal is engaged in export and import business shuttling across Australia, Middle East and India. It was his continuous journey and life abroad that had brought him closer to the struggles and travails of the Kerala diaspora. Now that he has tasted the fervour and vigour of cinema, Menon has decided to stay there for quite some time now. Onmanorama catches up with Jayalal's journey.
How did the story idea of Life of Josutty strike you?
It's is based on the real lives of Keralites abroad. Being involved in business overseas, I have witnessed a lot many instances of hardships and pains that expatriates undergo towards achieving what people call success. When they are back home, the years of toil get buried under the present day glitz. This prompted me to think of bringing those lives on the celluloid as cinema is a far reaching and popular medium.
Was filmmaking your dream?
Producing a film never occurred to me until I hit upon the idea of Josutty. The theme was discussed with Jeethu Jospeh and there was no looking back after he encouraged me to go ahead. He contributed enormously as also Rajesh Verma who penned the script and dialogues. It took almost two and a half years to complete the script.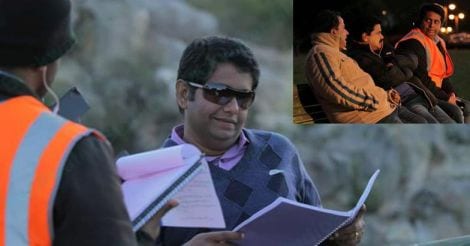 Director Jeethu Joseph. Inset: Jayalal(L) with Dileep and Jeethu
Films have now become business projects rather than artistic manifestation, what is your take?
The success of any film depends primarily on its story line and script. Actors, technical aspects and all other factors come after that. There is of course business involved in films otherwise who will come to produce a film. Nonetheless, making films solely for profit is not a good idea.
Do you have any plans to direct a film in future?
No, that is not my cup of tea.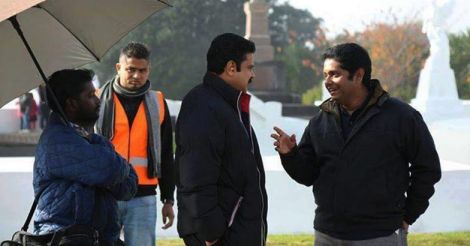 Dileep and Jeethu on the sets of 'Life of Josutty'. Photo: Facebook
What are the challenges the Malayalam film industry is facing right now?
Personally, I faced no hurdles at all during the making of my first film, Life of Josutty. I feel grateful to Jeethu for executing everything so wonderfully. Actor Dileep was also very supportive through out the venture and so were all the other artistes in the film. What I have learnt is that if there is a proper planning at all levels, there is least chance of getting entangled in the so-called booby traps of film industry.
Upcoming ventures
We have already started discussions on a couple of projects. Obviously, the storyline will be different. But they haven't assumed a clear shape to make a formal announcement.