Right from his school days, Shine Tom Chacko always wanted to be an actor. Chacko was in the seventh standard when he approached movie director and family friend Kamal with his desire. Kamal said nothing at that time but just smiled.
Chacko had to wait for a long time to realise his dream of becoming an actor.
Finally, the long wait has now paid off and Chacko is happy about getting noticed as a talented young artist. In conversation with the actor –
How did you get into movies?
My native place is Ponnani and I completed 10th standard from there before joining St. Thomas college in Thrissur for graduation. That is when I got to work as Kamal's assistant starting with the movie Nammal. I have had the opportunity to work with Aashiq Abu, Sugeeth, Rajesh Pillai and so on.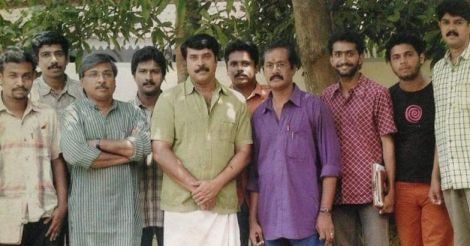 Shine (3rd from Right) with Mammootty, Kamal, Ashiq abu (Right to Mammootty) on sets. Photo: Facebook
How did you become an actor then?
The desire was always to be an actor. When Kamal was shooting Gaddama, I was working with Aashiq Abu. They had long been looking for someone with long hair to play the role of Basheer in Gaddama. Shareef, who works in the production department suggested my name. I met Kamal in Kodungalloor and he asked me to grow my beard also. That is how my first film happened.
Which character gained you attention?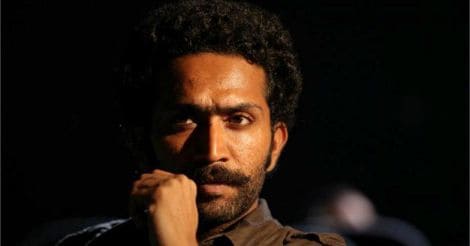 Shine in the movie 'Annayum Rasoolum'
Abu of 'Annayum Rasoolum' was a character that caught attention. I got good roles in films such as 'Ee Aduthakalathu', 'Chapters', 'Hangover', 'Kaanji', 'Pakida', 'Kondayum Poonoolum' and 'Masala Republic'.
Do you regret the decision to act in Kondayum Poonoolum?
Kondayum Poonoolum was a movie made by a bunch of talented youngsters. Out of its five stories, only one had a ghost in it. The other four stories create a feeling that there is ghost but at the same time dispel such beliefs and even ridicule some clichéd concepts like ghosts making their appearances always draped in white sarees as if it is their official uniform. It was a good subject.
But the movie failed at the box office!
The movie did not fully succeed in communicating its idea. Two episodes created confusion in the minds of the audience. Also, around that time many movies in the same format with multiple stories were released. May be that also affected the box office performance of Kondayum Poonoolum.
How challenging was the role in Ithihaasa?
Every beginner wants to get an important role. When I got the offer play both the hero and the heroine in the same movie, I happily accepted it.
A still from the movie 'Ithihaasa'
Changing the appearance is easy, but to maintain the body language of a woman and be convincingly feminine is difficult. It is after playing a woman that I realised men are very lucky. In a woman's garb you can't jump or run around.
One has to maintain a subdued body language and cry at regular intervals. I am happy that the movie was well received.
Which role do you like more? That of an actor or a director?
Being an actor is not that easy. It takes a lot of time to become an actor. Acting is an opportunity while direction is a job.
Those days it was impossible to get ones family to agree to one's goal of becoming an actor. When I left home to join the industry I had told my family that I was going to be a director. One can sustain on a director's job. But as an actor, the movie has to release first and it is based on the feedback of the movie that one will get other offers.
Direction was not my aim. Hence, if someone asks me whether I would direct a film the answer is no.
Is there competition among young stars?
For the onlooker, it seems as if there is stiff competition. There are of course concerns and tensions about which film will fare better when movies of other stars also release around the same time. But I think that kind of competition is there in all fields.
What are your forthcoming movies?
'Third world boys', 'Dooram and Biblio', which is Aashiq's assistant's movie, are in the pipeline.