Her name means the Goddess of dance. Isha Sharvani, the actress who impressed the Malayali audience with her commendable performance as a crook in the short film Isha in anthology 5 Sundarikal has her legs planted firmly in the sailing boats. And she's managing the excruciating task of balancing art and movie with consummate ease.
Danseuse and actress Isha Sharvani will be seen in Amal Neerad's magnum opus Iyobinte Pusthakam opposite Fahadh Faasil. Isha, Martha in Iyobinte Pusthakam, in a candid chat with Onmanorama shared her moments as the character.
The actress who began her acting career in Bollywood in Subhash Ghai's Kisna to said: "Until now most of my characters were glamorous and bringing Martha in me was a different and novel experience. The journey in Malayalam film industry from Isha to Iyob.. is different and I am glad that I got exciting projects. I was also fortunate enough to work with new directors like Sameer Thahir, Amal Neerad and the upcoming with Lijo Jose Pellissery who are aces in their respective genre. All of them are very forward minded that they take care of everything in their own way without putting much pressure on the actors."
The period thriller Iyobinte Pusthakam was shot at the scenic and secluded locations in the interiors of Wagamon, which kept Isha and rest of the crew detached from the outside world. "Once the shooting in Wagamon began, the entire unit stayed there at one place without taking a break to go back home. For two months, we were literally cut- off from the outer world. And undoubtedly, the entire crew made me feel home and over the time I learnt a lot by watching all the people work", said Isha.
Isha was all praise for Amal Neerad's way of working and said that he was particular about keeping Martha a simple and down to earth lady.
"Amal's visual sense is so breathtaking that working with him was really amazing. Amal was determined to maintain Martha a simple person. To achieve the natural looks he shot me sans make-up and at times barring me from even combing the hair."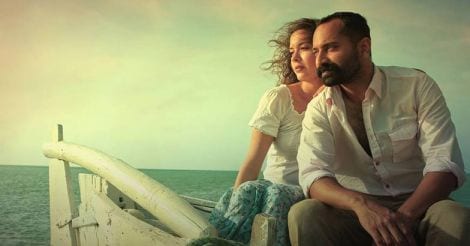 Isha Sharvani with Fahadh Faasil in the movie 'Iyobinte Pusthakam'
Isha's mother Daksha Seth is a renowned Kathak dancer, who pursued her passion for dance by studying under the legendary Birju Maharaj and father, Davissaro is an Australian musician, who came to Delhi to study Hindustani music from the Dagar Brothers. Since 20 years, Thiruvananthapuram has been the home for this family of talented performers.
With a Malayali heart, Isha is all game to dub for a Malayalam movie if the character allows her to. "My pronunciation is not that good but if a character suitable to my way of speaking comes, I would be happy enough to do the dubbing." She proudly stated that she does understand Malayalam and does speak occasionally.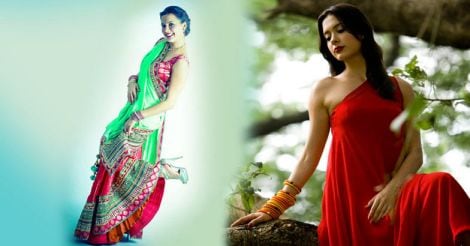 "Until now most of my characters were glamorous", says Isha. Photo: ishasharvani.com/stills
Talking about home, she said, "I travel a lot and be at many places. I would like to be rather identified as a mere Indian. I believe home is where the heart is. And currently my heart is centred in God's own country. No matter where ever I go, I make sure to return my home. In fact Malayalam film industry has deepened my relation with Kerala."
Like any other Malayali, Isha too has a great admiration and respect for Mohanlal and Mammootty whom she considers as big contributors to the Indian Cinema.
With the embodiment of delicacy and refinement: small, perfectly shaped features, a toned body and melodious voice, Isha had got a big leap with the 'Hide n Seek' ad pairing Hrithik Roshan which she terms as 'luck by chance'.
Keeping fingers crossed with the innate sense of confidence, Isha is gearing up shooting for Lijo Jose Pelliserry's Double Barrel along with her acclaimed dance show Shiva Shakti.