It is heartening to see lithe Bollywood dreamboat Deepika Padukone enjoy a cheesy pizza on a rainy day in the capital. Genetically blessed with curves, (or is it due to the fact that she's a sportsperson?) she confesses in a fl ash, "I am in a phase right now where I am excited about anything and everything, unlike earlier when I was scared to take on something new and unexplored."
Notwithstanding a heart broken publicly (Ranbir Singh), a rumoured affair with a costar (Ranveer Singh), or of course, the heated debate spawned by the controversy surrounding 'cleavage-gate', Deepika has nonchalantly worked relentlessly to reach where she is today despite all the 'ugly' rumours. She can now 'pick and choose' what she would like to do. Like her latest, the rather off-beat Finding Fanny, her good friend (director) Homi Adajania's tribute to a search for love, she says, "It is a beautiful, quirky love story, aren't we all looking for love? Something meaningful that will anchor us? That is why I wanted to do it. Also, it has a strong message: don't be afraid to look for love."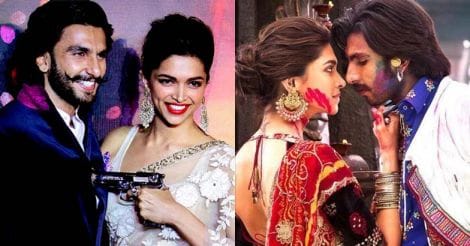 Deepika Padukone and Ranveer Kapoor in 'Ramleela' and during promotions. Image: PTI
Her co-stars admire Deepika's poise in the eye of adversity. Arjun Kapoor reveals, "Deepika is an actress, who doesn't carry baggage to the film set, which is a huge learning experience." Homi says, "Deepika is an instinctive actress. She can interpret what I want to say and then give it her own spin, making her extremely easy and a pleasure to work with. Also, because she has a no-fuss attitude and is professional."
This Bangalore- native moulds herself into the characters she plays dexterously and successfully, from Chennai Express' Meenalochni 'Meena' Azhagusundaram, Meera in Love Aaj Kal to playing a young, virgin widow in Finding Fanny. "Very rarely do you get a role that you can identify with, it is my job to make the character I am playing easy to relate to. There is no right or wrong in acting, there are a myriad ways in which you can execute a scene. Right now I am fearless, and the confidence that I have got from success has made me believe in my craft," she confesses.
Acting, she observes, is an art that you perfect over a period of time and for Deepika there were many cinematic greats who spurred her interest in 70mm, while growing up. "Hema Malini in Sholay and Seeta Aur Geeta, Sridevi (Chandini to Lamhe), Madhuri Dixit (Devdas, Parinda and Dil) all left an indelible mark on me as also the grace with which they carried themselves. They have been inspirations! But I would have to say that I want to carve my own niche and want to be remembered for myself, no one else. I have my own career path and my trajectory is different from that of others. Having your own identity in Bollywood is crucial, otherwise you get lost in a sea of actresses," she says.
Working with veteran actors like Dimple Kapadia (a staple in every Adajania film) and Naseeruddin Shah, Deepika admits that sharing screen space with them and observing how effortlessly and with what humility they function, was a stupendous experience. "Pankaj sir (Kapoor) is one of India's finest actors and he has no ego about his craft, which I found most endearing," says Deepika.
Wearing teal in support of ovarian cancer victims, a movement started by her buddy, Kalyani Saha, of Christian Dior, Deepika explains that she would like to put her star status to good use and create awareness about this disease, which can be treated by vaccines at an early stage. "Cancer is another word for suffering, and innumerable people are dying due to this disease. My prayers are with those whose families are undergoing this trauma, that's why I am wearing teal today," says the former badminton champ.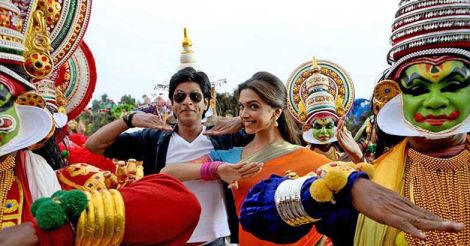 Deepika Padukone and Shah Rukh Khan in 'Chennai Express'.
Even while claiming that she is quite boring, Deepika admits that she is an extremely emotional person (the RK tattoo on the nape of her neck is gone). Yes Dippy, we believe you!
(Arrangement with THE MAN)