There are some minimum expectations that a movie goer has when he goes for a Gautham Vasudev Menon flick. So far, his movies such as 'Minnale', 'Vettayad Vilayaad', 'Kakka Kakka', 'Vaaranam Aayiram' and 'Vinnaithaandi Varuvaaya' have not failed to fulfil those expectations.
However, several of his projects that were announced had to be cancelled later, which even saw some critics writing off Gautham Menon. The Ottapalam-born director answers his detractors and talks about his soon-to-be released movie starring Ajith, 'Yennai Arindhaal'.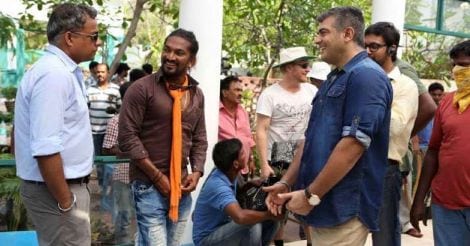 At the shooting sets of 'Yennai Arindhaal'. Photo: Facebook
Isn't two years a big gap?
It was not actually a gap because I produced two movies during this period. My own production company Photon Kathaas produced 'Thanga Meengal'. It was not a conscious decision to stay away from direction, it just happened. Three projects, starring Suriya, Vijay and Chilambarasan, were shelved. The one with Chilambarasan is expected to resume soon.
Why was Suriya-starrer 'Dhruva Natchathiram' dropped?
The dates that Suriya had given for 'Dhruva Natchathiram' and another movie were overlapping. I understand that there was pressure from outside on him to opt out of my movie. He ended up acting in a movie that had a weak script compared to 'Dhruva Natchathiram's'.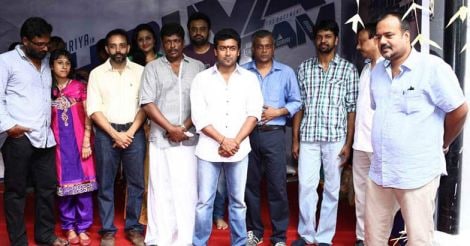 Movie launch of Suriya's Dhruva Natchathiram. Photo: Facebook
Were you two not good friends?
We are good friends since 'Kakka Kakka' days and if opportunity permits, we will work again together.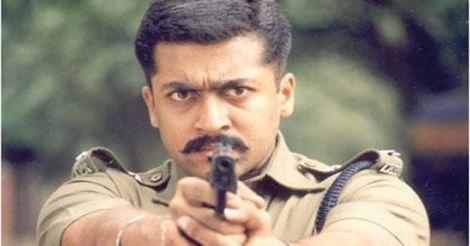 Suriya in the movie 'Kakka Kakka'
Stars are setting up own production companies. Does that cause such problems?
I don't know if that causes any problems. Though under different names, stars these days own more than one production company. I don't see anything wrong in them making movies because that creates many job opportunities.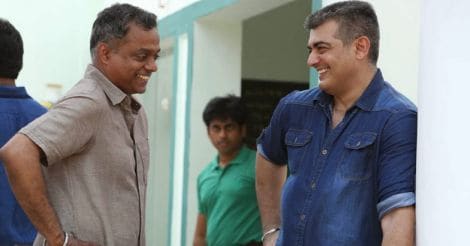 Gautam Menon with Ajith. Photo: Facebook
What about Vijay-starrer 'Yohan Adhyayam Ondru'?
That project did not take off at all. The entire movie was supposed to be shot in London. But since a considerable part of the movie had to be in English, Vijay thought it would not be palatable to Tamil audience and hence opted out of the movie. The movie has not been dropped and I am still trying to set the ball rolling once again with some changes in the script.
What about 'Yennai Arindhaal'?
The songs are all already popular and I am satisfied about the movie. It is the biggest budget movie of my career so far. The production cost of the movie is Rs 50 crore. Ajith will be seen in four different get-ups.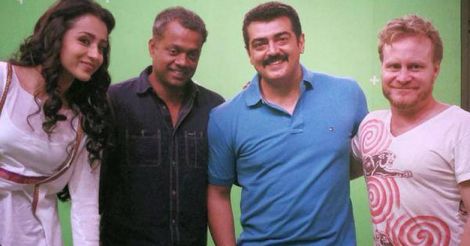 Gautam with 'Yennai Arindhaal' team. Photo: Facebook
But the movie's release date is being pushed. What are your comments?
Yes, the release date had to be changed thrice because the post-production work could not be completed before the stipulated time period. The movie is still more than three hours long and we are in the process of reducing its duration. I hope that audience will love Ajith's character Satyadev.