Gopi Sunder has carved a niche of his own over the last couple of years. So when this young maverick shared his SSLC mark list on his Facebook account just after the results was announced, was he trying to tell others that it was not the end of the road? That he himself, having flunked the exams, became famous, by following his dream and passion?
Music has been his first love, and he pursued it with a passion he did not have for his formal education. He did not come from a musical background. But now he spins hit tunes and is a superstar.
Now, he has his own music company, and a national award to his credit for the background score for the movie 1983. We chat up with Gopi who admits that he is living the life he had always dreamed off.
You won a national award for background score in the same movie in which the song Olanjali Kuruvi is featured. Was this expected?
Never, especially a national award! The national award jury mentioned that the BGM of the movie suits the tempo of the movie. That means, it is the success of the movie as well. Last year, I worked for 21 films. In most of the movies, I did the background score and music direction as well. Undoubtedly, creating BGM is a hard task. It is something where you will have to work along with the director, cameraman, and editor because you need to travel throughout the movie with your heart. A good background score enhances the communication of the movie with its audience. If BGM goes wrong, the entire film fails.
You have been churning hit songs back to back. What is your success formula?
When you sit down to listen to your own songs, you must do it as an ordinary music-lover. Always give the audience the music that they would love to hear. That is my simple technique.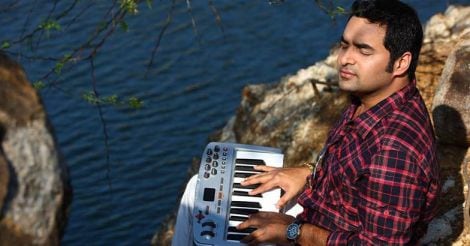 Gopi did not come from a musical background but now he spins hit tunes and is a superstar
When did you realize that music direction is your true calling?
When I was in the 6th standard, I created music for a drama that had to be staged in school. Later on, I heard my classmates hum my song even in the school bathroom! That is when I realized my soul connection with music. During that time, I was learning the 'tabla'. Then I learnt to play the keyboard. While I was doing my course in 'Vadya Visharad' from Madras Music College my dad introduced me to Ouseppachan sir who my dad's good friend. I was with him for 12 years, and that is where I learnt my real music lessons. Rosshan Andrrews gave me a chance to do the BGM for his movie Notebook because he had heard my songs when we worked together for Udayananu Tharam with Ouseppachan sir. Later on, Sibi Malayil sir gave me a chance to direct music for the film Flash.
How did someone who failed his SSLC end up at a music college?
I just want to make it clear. I had failed in my 7th and 9th standards as well. I was just bad in academics. But I always used to score decent marks for languages. I believe that even if you know only languages, you can be successful in life.
I have studied in 9 different schools during my nine years as a student. That too, I had to keep changing schools in Kochi. No schools were ready to accept me because I was backward in academics. I had studied in a school near Puthencruz, and they had to push me out because they just did not have another choice. Later on, when I became a music director, I was called for their anniversary celebrations, twice! Even though I went there, I did not bother to explain this story. My family was not too surprised when I flunked my 10th exams. They were relieved that I at least made it till 10th standard.
My family did not force me to attempt SSLC again because they knew it would not succeed I was always interested in music. That is why I left for Madras Music College. For joining the 'Vadya Visharad' course, all you need to have is an 8th standard pass certificate. During the admission procedures, I made them listen to my 'tabla'. I answered a few music related questions too. I used to get a first rank for most of the subjects in that college. But then, I ended my studies during the final year of college. Once, while I was studying in that college, I happened to visit the house of my music professor. Even though he has many musical degrees, his family were literally starving and was finding it hard to make ends meet. That is when I realized that a degree is not everything in life, and decided to call it quits. By then, I had already started working with Ouseppachan sir.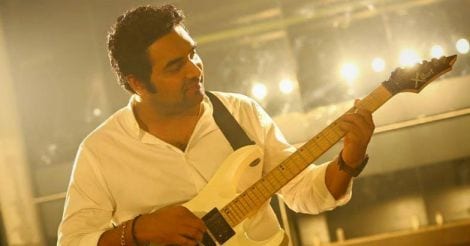 When you sit down to listen to your own songs, you must do it as an ordinary music-lover, says Gopi
You admit that you copy songs. But is that a good way of doing it?
I'am not going to say that my songs are 'inspired' from other songs and that is why they look like copied ones. If I have copied, I will openly admit it. I won't say that it is a good practice either. I do that because of certain circumstances and people's interests. But when you do something like that, it becomes incomplete. Apart from that, even when you do good music, you are tagged as a copycat and that hurts a lot. A song becomes controversial and people say that it is copied only because the song is noticed and it is a hit. Right? Otherwise, no one is going to pay any attention to all this.
If you have to copy songs again, will you do that?
I hope such a circumstance does not happen again.
Now, stars are also into singing. This is done as part of marketing. Right?
Yes, it always used to be like that. Apparently, all the stars who have sung for me till date could express my songs beautifully. Maybe because they are good actors themselves! I will say that they do a better job than some singers. I never had to tell them to sing a song with a feel. At the same time, I had to remind many playback singers about this fact. Dulquar Salman gave me quite a shock because he said he just cannot sing. The song that Dulquar sang for ABCD became a hit. All I can say is good things happen at the right time and at the right place.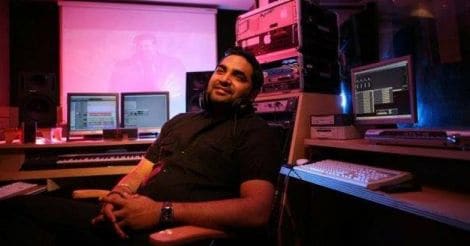 According to Gopi, a good background score enhances the communication of the movie with its audience
Most of your songs are sung by newcomers.
I have always dreamt of making Yesudas, Chithra or Sujatha sing a song for me. But I have never done that because of my love and respect for them from childhood. Till date, I don't think I have made a song that deserves to be sung by them. They are maestros par excellence. I cannot make them sing any random song for me. I must make sure that the song will be a hit. I made P. Jayachandran and Vani Jayaram sing Olanjali Kuruvi because it suits their voice. Now, if I can make another hit song, I want Das sir to sing it for me.
Which is your favourite song amongst all your tunes?
I do not make songs that I love. I keep aside my tastes to create songs that are loved by the masses and will be accepted in the market. It is not necessary that anyone else must have heard of the song that I love the most.