Kottayam: 'Excited'. That's the adjective Sandra Thomas picks to define herself with the release of latest Mohanlal flick 'Peruchazhi'. Sandra has made a name for herself as an actor-cum-producer is a short span in the Malayalam film industry. Be it Mariamma in 'Amen' or producing movies like 'Philips and the Monkey Pen' and 'Friday', Sandra has donned the roles of an actor and a producer with ease. Manorama Online caught up with Sandra for a candid chat.
On Peruchazhi
Peruchazhi is the union of two film industries - Malayalam and Tamil. In Tamil, the name 'Peruchazhi' implies to the politicians who reach their goals by any means. The same is reflected in this political satire. With the fresh theme, and Mohanlal-Mukesh combination, the film created a huge buzz before its release among Kerala audience.
Click here to watch the full interview
A.R. Rahman's flutist Arora (Naveen) has composed the music for the film. Madhusudan, who created visual effects for, 'Spiderman3' and 'Viswaroopam2' handles the movie's VFX. Moreover, this is no ordinary comedy movie, for it cost about four times as compared to an average Malayalam film. All in all the film will be like a big feast for Onam.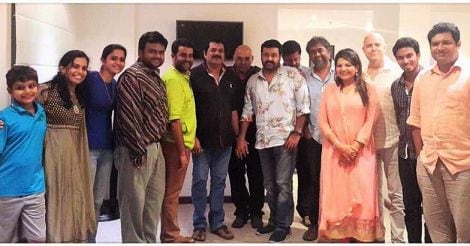 The 'Peruchazhi' team. Photo: Facebook/sandrathomas
Mohanlal - as an actor and person
There was an air of formality initially whenever I used to talk to him. There were always people around him and I could just know him as a versatile actor. But later during the shoot of the film I realised that Malayalam industry is indeed blessed to have such a persona.
A very down to earth simple minded person and director-friendly actor that's what I can say about him. On the sets, he would always make sure to reach on time and would listen patiently to the director. I have never seen such a dedicated and passionate actor.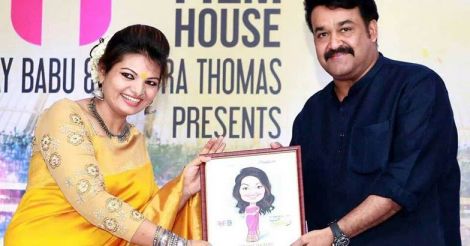 Mohanlal (R) handing a memento to Sandra Thomas. Photo: Facebook/sandrathomas
During the free time on shooting days, Laletten would always cook for us. We were a crew of 23 members and he would personally come and serve the food he cooked and would inquire if we enjoyed the food. Whatever he does, he gives his 100 per cent and I believe dedication is his success mantra.
Production and acting
I would like to be identified as a producer than a mere actor. Turning actor was rather accidental, more as a favour to my friend and 'Amen' director Lijo Jose Pellisserry. I feel actors have the easiest job in the industry. That is not my priority. Being a producer is a thankless job, it's something I enjoy; something I am good at.
I prefer to be one among the few producers than one among the many actors. But if I get good roles, I don't mind acting. In 'Zachariayude Garbhanikal', for instance, I got a great role. From a producer's perspective it means one less actor to pay! And that is how I ended up acting in 'Peruchazhi' as well.
Motivation
My sister, Sneha used to handle all the account stuff, but she got married a few months back and now I am terribly missing her. My mother is my biggest motivator who helps me in decision-makings be it the films or my personal matters.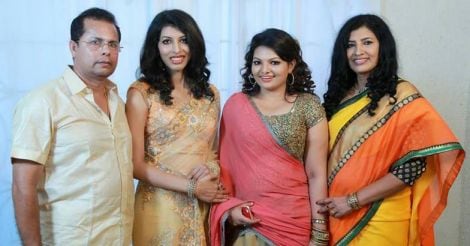 Sandra with her family. Photo: Facebook/sandrathomas
My father and my friend Vijay Babu (co-producer and actor)are also the key persons behind my strength.