Sitting on the terrace of his 17th floor flat and watching the flaming twilight sky, Anoop Menon gets candid, " I like sitting here, getting all drenched in some of the most beautiful rains. When I get back after a late night shoot or in the evening, I freshen up and sit here alone enjoying the view of Kochi, all lit up and mesmerising. Kochi is a big world. A world where we are mere worms, a gentle reminder, that if I am gone tomorrow, everything will nevertheless go on like this, unchanged, unperturbed."
Who do you like more; Anoop Menon the star or Anoop Menon the actor?
There is a general tendency among us to degrade those stars that are popular among the masses. As if they are devoid of any substance. There are very few stars here, but plenty of actors.
It is from among many actors that a star is born. Like from thousands of actors we have one Sivaji Ganesan, M.G.R, Kamal Hassan or Rajnikanth. It is not a hero or an actor that I wish to be.
What I have understood from my innings in cinema so far, is that I am actually just someone who enjoys good cinema. I don't even consider myself a good scriptwriter.
Why this detachment, doesn't cinema make you happy?
Of course cinema makes me very happy. It has given me much more than what I hoped for. Awards, hit films, and the happiness that I am doing something I love in life. There are many, that adore me and this gives me all the confidence that I have.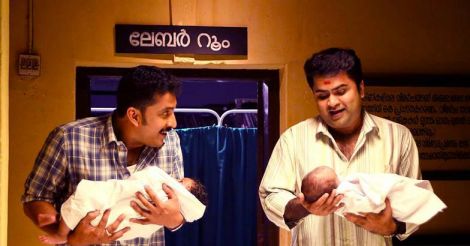 A still from the movie 'Vikramadhityan'
This is what sustains me. I can't dance and I don't do fight scenes too, but my audience still accepts me as a star. 'Angry Babies' is my first solo hit. The role that I did in 'Vikramadhityan' is like no other that I have done before. Actor Unni Mukundan is just eight years younger to me and I play his father.
What next?
A film called 'Pavada' directed by Marthandan, with Prithviraj and Jayasurya.
Priyadarshan's 'Aamayum Muyalum'.
Another one by the 'Angry Babies' team called 'She Taxi'. 'Dolphins', that I have scripted is the life story of a Bar owner. It was earlier named 'Dolphin Bar'. But with the shutters coming down on bars in Kerala, we changed the name to Dolphins!!
A handsome, eligible and a well-known star, How come, you are still unmarried at 38?
I have nothing against the institution of marriage. To be frank, I just didn't get the time for it. I could elaborate on this. I was 26 when I first came into cinema. As the hero, in Vinayan's Kaattu Chembakam. And then it was only after another 6 years that I got a solid character role, through Ranjith's 'Thirakadha'.
You could call this as my real first film. In the next 6 years I acted in 50 films out of which 29 were lead roles, and I wrote 9 scripts too. When I had so much to do, I just didn't get the time to think about anything else. I am focussed at what I am involved in.
Now I have decided to get married. It will happen in a year's time. And it will be a girl who has no connection to cinema or the industry.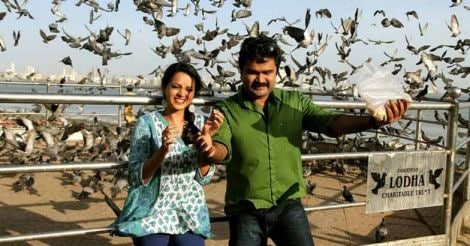 A still from the movie 'Angry Babies'
You have done plenty in just 6 years! So what is in store for the next 6 years?
I will try and make up for the many things that I missed out in my life during the last 6 years. My reading, watching movies, many journeys and travels, I want all of that back. I will act in fewer films and write only one film in a year. I will learn to live without much pressure or stress.
A life with someone, to watch movies with, or to go on long trips?, Anoop just smiled without answering. The night sky over Kochi darkens with a slight rain.
I wanted to ask him to hum a few lines of his hit number 'Mazhaneer Thullikal…', but left it to be. For now, let the rain sing….