To challenge the actor in Jayasurya, just any lead role in a film will not do. He is somebody who will go to any extent to ensure that the character is as convincing as it ought to be. Right now, he is in an exciting phase. He is glad about the success of Amar Akbar Anthony and has just wrapped up the work of Su Su Sudhi Vathmeekam - Two challenging characterisations in his film career.
In one, he appears with a limp and while in the the other, his is a character with a perpetual stutter. He still hasn't gotten over the varied experiences. Let's see what the actor has to say about it:
Tell us about your experience of portraying such different characters?
Both Amar Akbar Anthony & Su Su Sudhi Vathmeekam were nothing like any role that I have done so far. I would say these were the best characters of my acting career. We had a hard time trying to complete the schedules of both films. It was almost like I was living the roles. I was able to delve into the actual mentality of people with such handicaps, trying to understand what they go through. There were many who came to me asking what happened to my leg. I just experienced their sympathetic looks for, say 50-60 days. But imagine those that face it all their lives. It is a terrible feeling. It's not just me, all the actors in the film has done a brilliant job.
How did these two films come to you?
Nadhirshah first narrated the story of Amar Akbar Anthony to me. After he read the entire story, he asked me which of these three characters I would like play. What I chose was exactly what he had in mind! As for Su Su Sudhi… Ranjith called me for doing the lead character Sudhi for the film.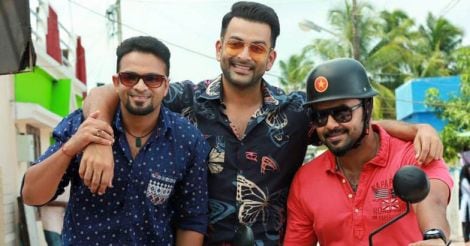 A still from the movie 'Amar Akbar Anthony'
It must have been difficult to get in & out of the characters?
Certainly. I am not a born actor. I am not gifted with the boon to get into the skin of each character within a matter of minutes. I had to literally live out the roles. The entire schedule of Amar Akbar Anthony took around 60 days. Acting with a limp involved major physical strain to my leg, it was very painful. Whereas Su Su Sudhi Vathmeekam stressed me out both mentally and physically. Dubbing that usually takes 2 days to complete, took about 6 days. It took me many days to perfect my speaking style. I am not boasting about anything but for 35-40 days, I lived with a stammer.
Seems like Su Su Sudhi Vathmeekam tested your limits?
Yes, it was extremely stressful. I don't think there have been any stuttering heroes in Indian cinema. And so there weren't any reference films available for study. The acting could not be dramatic. The film Umapeninu Uriyada Paiyan was something of this sort. We see many such people in our daily lives and so the character had to come out as natural or real as possible. The portrayal can't go overboard and artificial. We had to be extra careful about all this. And again, Sudhi's character goes through four different phases of his life. Changes had to be incorporated into the speech based on this, and so dubbing had to be meticulously done.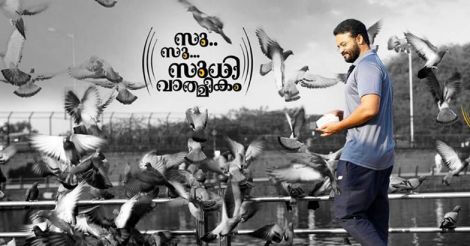 Poster of the movie 'Su Su Sudhi Vathmeekam'
There were other actors in the film Amar Akbar Anthony apart from you, whose character goes best with the one that you portray?
How can I say that! For these characters to be complete, it has to be done by those that the directors choose. This is the case with every other role. When they read the script, the directors will have somebody in mind that is suitable for the role.
Moideen's character in the film Ennu ninte Moideen could be done this beautifully only by Prithviraj. I don't think anyone else could be as convincing as him. Even the characters in both these films are like this.
How would you rate your own acting?
I am satisfied with my performance in the two films. It was hard but I enjoyed the hardships thoroughly.
Going forward, will we see changes in your career graph?
You certainly will. I haven't committed to any new projects as of now. I had to let go of five major projects during this time. As an actor, I believe I have a lot more to learn.
What kind of changes can we look forward to?
Whatever it is the audience expects from me as an actor, I would like to go a notch higher, exceeding expectations. I have to do complete justice to the roles entrusted to me. Most of the films done this year had acting oriented roles, I want that trend to continue in the future too. The actor in me has to be satiated. There has been failures, but this is just a natural progression. I would not want to repeat the same mistakes again. I am not being audacious when I reject or say no to a project, it is just a realisation. A part of the process of maturing, of evolving.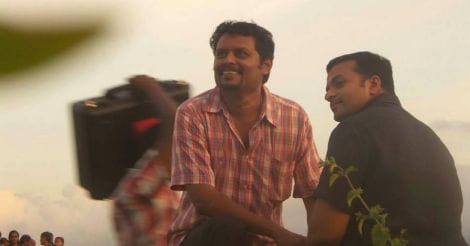 Jayasurya and Ranjith
You have evolved into a serious actor now. So what are your future expectations from cinema?
I have always approached cinema seriously. Not just now, it has been like that right from the start. As far as expectations are concerned, I would love to work with more good directors. I would like to do good projects. I have never had a godfather in cinema. If I fall, I got to pick myself up. So the path needs to be trodden with care. There are lessons to be learnt from mistakes. An actor means not just being a hero.
When people from other states or even the world speak about the Malayalam film industry, I would someday want them to know the industry by the name of a good actor called Jayasurya. This is my dream and I am not being overambitious.
Your son dubbed for the film Su Su Sudhi Vathmeekam. How was the experience?
It was an awesome experience. He has been familiar with films and its intricacies ever since he was a baby. We speak about films at home 24X7. And almost all of his father's friends are from film background. In a way, he lives in the world of cinema. During the dubbing, he was never tensed. Was pretty cool about the whole thing. Just like how kids are, they are never overly bothered about things like grown-ups. He walks around with a small camera, shoots stuff and edits it all by himself. He has made a short film and uploaded on YouTube. I guess kids are much faster than their parents.
Seeing kids outgrow their childish ways, and be almost like big people, is a great thing. I am enjoying that experience every day. Director Ranjith's daughter has acted in the film and she was outstanding I must say. Witnessing the little one's transformation into the character gave us so much happiness and I saw that in the eyes of Ranjith and his wife.