Ever since the shooting of Kamal Haasan's new movie Uttama Villain started, his fans have been eagerly waiting for its release. The trailers are out and the Kamal fans can't wait any longer to see the movie.
The only question the fans have got is about the release date. The director of the movie, Ramesh Arvind clears the air around the release date.
Ramesh Arvind is not only a director but also a famous actor in Kannada and Telugu movies. Ramesh's Rama Bhama Shama is Kamal's Telugu movie appearance after a gap of 17 years. More than an actor-director relationship, Kamal and Ramesh share a very good friendship. The director talks to Onmanorama about his friendship with Kamal and his movie Uttama Villain.
When will Uttama Villain be released?
The work of Uttama Villain is done. Now the censoring is going on that is delaying the release. Ever since the project was announced everyone is asking just this one question. I tell them that when the movie will hit the screens, it will be worth the wait. I will not make them wait for long. The movie will be released soon. (According to reports, Uttama Villain will release on May 1, 2015)
Is the story of Uttama Villain based on Kamal Haasan's life?
It is not entirely so. But, a good part of Kamal Haasan's life is also portrayed in the movie. Part of the story that revolves around Balachander is closer to Kamal's real life. The movie portrays a number of characters who in real life have influenced Kamal Haasan. One of them is Balachander sir. That is the reason why he is doing a role. This will be his last movie. My debut was in Balachander's movie Sundara Swapnangalu. Hence, as a director, this movie is close to my heart.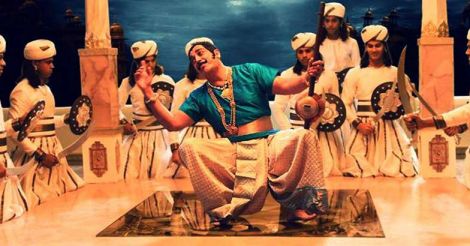 Kamal Haasan in the movie
How do you rate Kamal Haasan as an actor?
One needs to be lucky to get to work with an actor like Kamal Haasan. I got fourfold of him as the story covers four phases of the actor's life. No praise is enough for Kamal's dedication to cinema even at this age.
How much has your friendship with Kamal Haasan helped the movie?
My friendship in fact does not end with Kamal. I am friends with many people who were involved in the project. I have worked with Jayaram and Urvashi in Panchatantram. Urvashi was the heroine of my movie Rama Bhama Shama. Similarly, like with actors, I am friends with people working backstage too. This has helped me freely interact with them.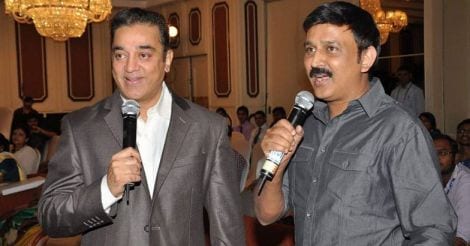 Ramesh Aravind (R) with Kamal Haasan. Photo: Facebook
Can you explain the Malayali presence in the movie?
There are five malayali faces in the movie including Jayaram, Urvashi, Parvathi Menon, Shamdat who is the director of photography and editor Vijay. Each of them performed extremely well and contributed to the movie. The Jayaram we are going to see in Uttama Villain will be one that the audiences have never seen before. I was amazed at his ability in handling humour while working for Panchatantram. I was equally amazed by the way he played a serious character in Uttama Villain. Urvashi has always been a favourite actress for Tamilians. They call her Lady Shivaji Ganeshan. In Uttama Villain, she has a scene with Kamal in hospital. Tears rolled down my cheeks when I saw her act in that scene.
Parvathi became popular in Tamil Nadu through Mariyan. She is playing Kamal's daughter in Uttama Villain. It is not easy to share the screen with an actor of Kamal's calibre. But even such a young age Parvathi worked hard and was competing with him. Cinematographer Shamdat was meticulous and each shot was taken keeping the essence of lighting in mind. Editor Vijay knew exactly what I wanted and delivered it.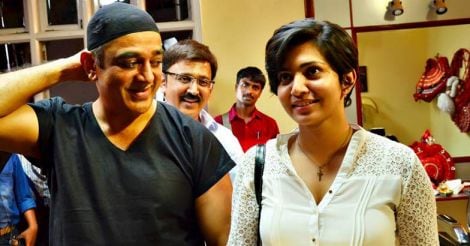 Parvathi, Kamal Haasan and Parvathy on sets of 'Uttama Villain'. Photo: Facebook
Even Kamal fans in Kerala are eagerly waiting for the movie. What do you have to say?
Yes, Malayalis are keen followers of cinema. If Malayalis like a movie, it means that the movie is a success. They do not blindly believe in anything. The changes happening in your domestic movie industry back in Kerala proves just that.
Do you follow Malayalam Cinema?
Of course. I regularly follow Malayalam cinema and notice the changes. The heroes in Malayalam movie industry are all good actors. Mammootty and Mohanlal can be role models for aspiring actors from any state, thanks to their effortless acting. Bangalore Days was the last Malayalam movie I watched. It has a wonderful script.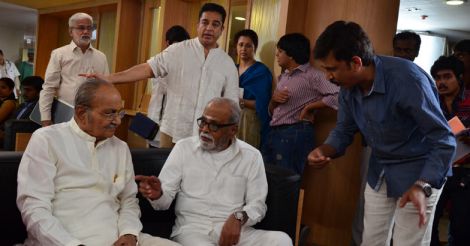 The movie portrays a number of characters who in real life have influenced Kamal Haasan, says Ramesh
Fahad Fazil, like Mammooty and Mohanlal, is a good actor. I was impressed by his acting in Diamond Necklace. Likewise, Prithviraj too is a nice actor. His character J C Daniel in the movie Celluloid is a contribution to Malayalam cinema. Naadodikaatu, Chandralekha, Ee Puzhayum Kadannu etc were remade in Kannada and I was fortunate to act in them.
Are you interested in acting in Malayalam movies?
I would not want to just act but also direct a Malayalam movie as and when an opportunity comes up. I acted in a Malayalam movie, Prakash Koleri's Avan Ananthapadmanabhaman, in 1993. I am thinking of doing a love story in Malayalam, after Uttama Villain.