Mahabharata has inspired so many creative geniuses. Even S S Rajamouli, the man behind the epic Baahubali, dreams of visualising Mahabharata one day, but dreads the challenges facing him in such a massive project.
If Mahabharata is a treasure trove of colourful characters, Karna is perhaps the most striking of them all. There are two Malayalam movies on the anvil based on the tale of the legendary warrior and his conflicts.
Even as R.S. Vimal is casting Prithviraj as Karna in his new movie, actor-director P. Sreekumar is coming closer to fulfilling a personal dream when he prepares to start work on his movie with Mammootty as Karna.
Sreekumar says he started working on the project 18 years ago. The first script he wrote was five hours long. After years of tweaking and five major rewritings, the script now stands a good two hours and 45 minutes. Sreekumar reveals his plans to Onmanorama.
The first choice
Mohanlal is the first actor to read this script. He was the first one on my mind as Karna. He said we can make it into a movie.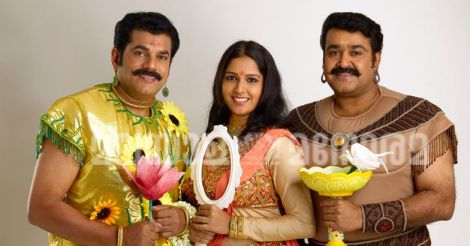 Mukesh, Aparna and Mohanlal
Then Mammootty happened to hear about this script. He read it in front of me. The moment he finished it, he embraced me and said he would act in it. I spoke with Mohanlal and he said Mammootty would do an excellent job in the role.
The rebirth of Karna
Director Madhupal had come to me with a proposal to make my script into a movie. He read the script and took it up immediately. We have also found a producer.
We started the pre-production works earlier. But we kept everything under wraps. Madhupal has zeroed in on the locations for the shoot. The film will be shot in four schedules spanning 100 days. We have also finalised the cast. The shooting will be done in Rajasthan, Andhra Pradesh and Hyderabad. The film has a budget of Rs 50 crore.
The stumbling blocks
That is a long story in itself. This was supposed to be a movie written by M.T. Vasudevan Nair and directed by me. We had even given him an advance and talked about the project many times. But that did not happen for some reasons.
MT told me to write the script myself. He also gave me a lot of books on screen writing. I read them all. I travelled across India with the project in mind. I went up to Haryana's Kurukshetra, where the Mahabharata battle was supposed to have happened.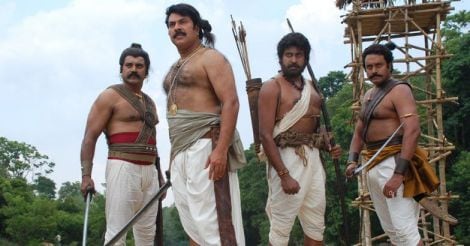 A still from 'Pazhassi Raja'
Later, Hariharan offered to do this movie with Mammootty as Karna. The Macta Federation was supposed to produce it. Even that promise failed to materialise. This movie's greatest challenge is to find the huge investment.
Hariharan did Pazhassi Raja with Mammootty. He did not talk to me about this project after that.
Homework pays
This script is the result of years of studies and discoveries. Many giants have commented me after reading the script. Some directors even bowed before me after reading this.
I remember what my friend Venu Nagavalli told me after reading it: "I have written 12 scripts in my lifetime, but I wish I could write one like this."
Writer Sukumaran Nair said this script is an asset to Malayalam literature. It was director Shaji Kailas who touched my feet after reading it. The news about this script had been written about earlier in newspapers. But then the social media was not active like this.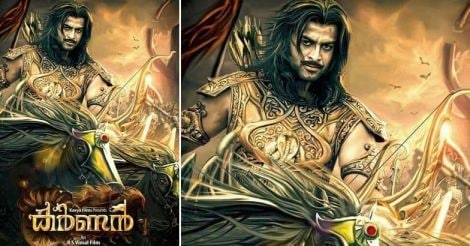 Prithviraj in RS Vimal's 'Karnan'
Prithviraj as Karna
Shaji Kailas told Prithviraj about the script. Prithvi had a special interest in it. He wanted to listen to the script. I went to his house but could not read it out because he was busy with stuff related to his marriage.
I was ready to give my script to anyone. I would have even given it to Vimal Kumar, who is making his own movie about Karna with Prithvi as hero. They did not ask. Then Madhupal came.
Title, theme
We were about to announce the movie along with a puja when we heard about the other project on Karna. Vimal Kumar and Prithviraj have already registered the title, Karnan. That will not affect our film. We can give so many other names to this movie. Mahabharata is so vast. Our victory hinges on presenting it well. May be Vimal can do it better.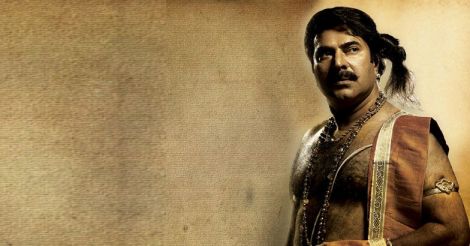 Mammootty in 'Pazhassi Raja'
My Karna is not presented as a warrior. The film depicts his personal life marked by internal conflicts. Mammootty's wonderful acting will be a major attraction of the movie.